Developer's gypsy threat to Broughton Astley residents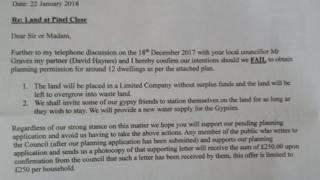 Residents were told gypsies would move on to land on their street if an application for permission to build 12 new houses failed.
In a letter, they were told they would receive £250 if they supported the plans.
Wayne Rushton, who owns the land in Broughton Astley, Leicestershire, later withdrew his offer as it "could be misconstrued as a bribe".
Harborough District Council said it was "taking the matter very seriously".
Police said they would be contacting the landowner.
A resident, who did not want to be named, said she was "shocked" to find the "threatening letter" among her post.
"I was quite angry at having somebody threatening behaviour like that if they didn't get what they wished to achieve."
Another resident said: "Somebody has threatened us as a small community. That's a bit frightening."
A spokesman for Harborough District Council said: "We take this matter very seriously and have written to the landowner in question stating that the letter he sent to residents is highly inappropriate and undermines the fundamental principles of the planning system."
It added no planning application had yet been received.
Leicestershire Police said they had a report on Tuesday of a letter being received by a resident of Pinel Close, Broughton Astley.
"The person who contacted police was given initial advice that no criminal offence had been committed.
"Officers have since reviewed the report and will be re-contacting the person who made the report, with a view to discussing the matter further."
Mr Rushton, from Cannock, Staffordshire, has been contacted by the BBC but has not yet commented on the situation.