Leicester celebrates 25 years of comedy festival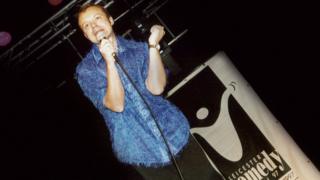 A festival which has given a leg up to some of the UK's biggest comedians is celebrating its 25th year.
The Leicester Comedy Festival, which was first held in 1994, starts today and runs until 25 February.
The history of the popular festival will be charted in a new exhibition, called A Funny City, later this month.
Comedians Harry Hill, Matt Lucas and Sarah Millican are among those set to take part, with more than 120,000 people expected to attend the festival.
Live updates and stories from across the East Midlands
The exhibition will feature archive footage of the festival as well as memorabilia donated from the public.
You might also like:
Factory staff taught how to laugh to beat the blues
Palin: Comedians need to fight against PR
Comedian Rhod Gilbert stands up to shyness
Monty Python star Michael Palin will also appear alongside local people to talk of their memories of the festival.
Festival founder and director Geoff Rowe said: "The last 25 years have been incredible and archiving some of our stuff is really important so it'll be around, and publicly available, forever.
"We've worked with loads of people to put on the exhibition and website, including young people from across the city who have helped us hunt through storage boxes, scan items and design the final exhibition.
"There are some surprising clips and photos of comedians looking very young, in addition to a couple of clips of myself which make me feel really old."
Leicester Comedy Festival is the UK's longest-running and this year includes more than 840 events in 69 venues across 19 days.
A Funny City will be displayed at Soft Touch Arts, 50 New Walk, Leicester from 13-25 February.