Leicester jeweller death: Arrested woman released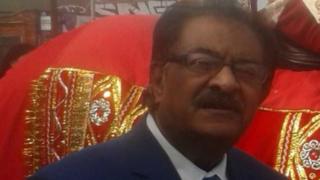 A 22-year-old woman arrested on suspicion of conspiracy to kidnap and rob following the death of a Leicester jeweller has been released.
Ramniklal Jogiya, 74, was found dead in Gaulby Lane, Stoughton, Leicestershire, on 25 January. Police believe he was abducted the evening before.
Four men aged 19, 20, 23 and 29 have been charged with the kidnap and robbery of Mr Jogiya.
Four more men were arrested in connection with the death then freed.
Two of these men, aged 22 and 18, were released under investigation and the two other men, aged 20 and 21, were released with no further action.
Now the woman, who was arrested on Monday, has also been released under investigation.
Javon Roach, 29, from Leicester, Thomas Jervis, 23, of Whetstone, Charles Frances Ward, 20, and Callan Reeve, 19, both of Leicester, have been charged with kidnap and robbery and will appear at the city's crown court later this month.
All the men are being held in custody.
The charity Crimestoppers has offered a £10,000 reward for information.