Leicester explosion: Mother and two sons 'among blast dead'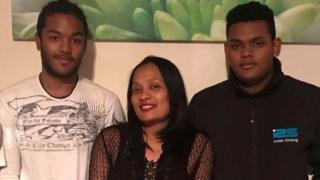 A mother and two of her sons are believed to be among the five people who died in an explosion in Leicester.
Mary Ragoobar, 46, and sons Shane, 18, and Sean, 17, lived in the flat above the shop in Hinckley Road which was destroyed in the blast on Sunday.
Police said they are missing along with Shane's girlfriend Leah Beth Reek, 18, and Viktorija Ijevleva, 22, who was working in the shop at the time.
Remains belonging to five people have been recovered from the wreckage.
Leicestershire Police said given the "devastation caused by the blast and fire", it may be some "considerable time" before the bodies are formally identified.
Mrs Ragoobar's husband, Jose Ragoobeer, was working at the time of the explosion and received a phone call to say his youngest son had been taken to hospital.
His employer, Lola Ojomo, said he was "adored" by his clients, who know him as "Joe". She described him as a "very devoted" father.
"I don't know how he will recover from this," said Miss Ojomo, who is director of Pure HomeCare.
"He's very much a family man. I think his work and family were just it for him, that was his life.
"His remaining son is still critical. We don't even know if he's going to make it."
Mr Ragoobeer was with a client when he received the phone call about his son.
"He made sure the client was OK; that's the kind of person he is; then went off and communicated with us to say he was at the A&E with his son," said Miss Ojomo.
"He at the time didn't know what had happened to the other members of the family. I think he assumed they weren't in."
'Humble and grateful'
His colleagues are raising money for him through a crowd-funding page.
Miss Ojomo said he was "really humble and grateful that anybody is thinking about him".
Stanislav Stosiek, who went to English Martyrs Catholic School with Sean Ragoobeer, said he was a "wonderful person" who was "smiling all the time".
He added: "The fact he's just 17, not 18 - so young. He had so much ahead of him, so much. It really breaks my heart.
"He really liked spending time with friends at English Martyrs for sure. He had many close friends there that are mourning right now and I think they're all going to be devastated to hear he's dead."
Mr Stosiek said he was "truly devastated" for Sean's younger brother "who miraculously survived".
"I hope his brother recovers. And I hope for the sake of his father, who I don't know how he's going to deal with this, but I hope [he and his surviving son] recover and I hope the very best for them."
Five people were also taken to hospital after the blast, one of whom remains in hospital with life-threatening injuries.
Specialist teams with experience of searching earthquake-hit buildings are being used in the search operation.
This includes the use of dogs, cameras and listening equipment.
But police said they did not expect to find any survivors and the operation had moved into the "recovery" phase.
Supt Shane O'Neill said: "Tragically, all we are now looking for is any further human remains.
"This is vital work that is being done, on behalf of the victims and their families, and it will take some time to complete.
"People lost their lives on Sunday in the most horrific way. We need to understand why the building exploded."
The building consisted of a shop premises on the ground level and a two-storey flat above.
The shop had gone through many owners but most recently was a Polish supermarket called Zabka. It is believed to have been trading since January.
A section of Hinckley Road is expected to remain closed throughout Tuesday.
A public meeting held on Monday night was attended by residents and businesses.
Matt Cane, group manager for Leicestershire Fire and Rescue Service, said he could not rule out the possibility more bodies could be recovered from the scene.
"While we have no intelligence to suggest this is the case, we cannot rule out that possibility until the search is over," he said.
Support is being provided by police family liaison officers to the families of the five people known to be missing, Leicestershire Police added.
Leicester City Council has asked for flowers to be left near the front steps of the Westcotes United Reform Church in Hinckley Road.
A rest centre, which was opened at St Anne's Church in Letchworth Road to support residents who had to leave their homes after the blast, has now been converted into a support and information centre.