Leicester explosion: Police make three manslaughter arrests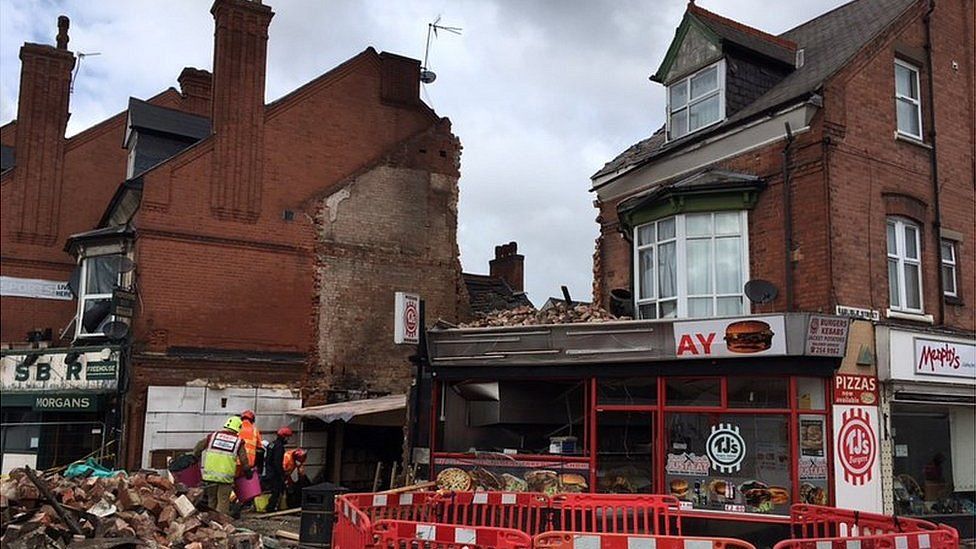 Three men have been arrested on suspicion of manslaughter over a fatal explosion in Leicester.
Five people, including three members of the same family, are believed to have died when a flat and shop were destroyed on Sunday.
The three, all in their 30s, come from East Anglia, the North West and East Midlands, Leicestershire Police said.
While police have not released more details, they stressed there was no evidence the blast was terror related.
Mary Ragoobar, 46, and sons Shane, 18, and Sean, 17, lived in the flat above the Polish supermarket in Hinckley Road.
They have been officially reported as missing, along with Shane's girlfriend Leah Beth Reek, 18, and Viktorija Ijevleva, 22, who was working in the shop at the time.
Mrs Ragoobar's husband, Jose Ragoobeer, was out working at the time of the explosion and a third son is in hospital.
Remains belonging to five people have been recovered from the wreckage. Police have yet to formally identify them.
Five people were also taken to hospital after the blast, one of whom suffered critical injuries.
Specialist teams with experience of searching earthquake-hit buildings had been used in the rescue operation. This included the use of dogs, cameras and listening equipment.
An investigation into the cause of the blast did not begin until the operation had been completed. It is expected to take several days.
Leah Reek had been a volunteer at Leicester hospice Loros and management said she had a "bubbly personality" with a "passion" for her work.
Related Internet Links
The BBC is not responsible for the content of external sites.