Rape and murder accused said sex with woman 'consensual'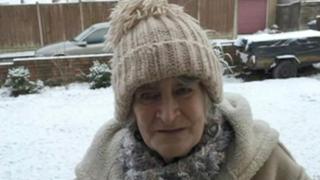 A man accused of raping and murdering a 72-year-old woman told police they had consensual sex, a jury has heard.
Craig Keogh, 26, who knew Jane Hings because he had walked her dog, said when questioned that she was "pretty".
He told officers that she was still alive when he left her bungalow in the Leicestershire village of Fleckney in September last year.
Mr Keogh denies her murder, burglary and two counts of rape.
Ms Hings was found dead at her bungalow by two carers on the morning of 24 September and Mr Keogh was arrested at his caravan in Fleckney two days later.
Mary Prior QC, prosecuting, read an agreed summary of Mr Keogh's police interviews to the jurors at Birmingham Crown Court.
Mr Keogh claimed Ms Hings had "enjoyed the activity and said 'oh yeah' several times", Mrs Prior said.
Ms Hings had apparently been "a bit shaky, but fine".
"She went into the living room and returned with £200 which she gave to him."
Mr Keogh also claimed he had sex with Ms Hings on a previous occasion, and she had given him £200 that time too.
However, jurors heard evidence from forensic pathologist Stuart Hamilton that conflicted with Mr Keogh's version of events.
Dr Hamilton said Ms Hings had suffered injuries that would have made the sex too painful for it to be consensual.
Dr Hamilton told jurors about other injuries he found on her body, and they looked at computer generated images showing some of the injuries.
Ms Hings' injuries included bruises and scratches to her face and torso, bruising to her right arm consistent with it being gripped, deep bruises to her ribcage, and deep bruising to her neck.
Dr Hamilton said her death was caused by smothering from something covering her nose and mouth, such as a pillow or a hand.
"Given the findings in this case I am of the view that external airways obstruction is the most likely explanation - what most people would refer to as smothering," he said.
However, during cross-examination Dr Hamilton said he could not say whether or not Ms Hings was deliberately killed.
Jeremy Dein QC, defending, asked him: "You could not say that person A's intention was to deliberately obstruct person B's airways?"
Dr Hamilton replied: "No."
The prosecution believe that Mr Keogh used a pillow to smother Ms Hings.
Lisa Wheeler, a forensic scientist, was asked to examine three of Ms Hings' pillowcases using a method called "vacuum metal deposition" to find marks showing how they had been handled.
On one of the pillowcases she found handling marks in the top left corner and the bottom right.
The trial continues.
To discuss an East Midlands story idea, contact caroline.lowbridge@bbc.co.uk.