Mark Cookson death: £20,000 reward offered in appeal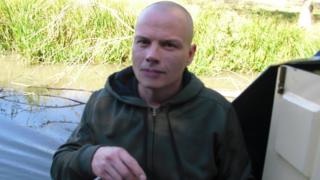 The family of a man who was found dead in his flat three years ago have re-appealed for information.
Mark Cookson was involved in an argument on Hillcrest Road, Leicester at about 18:30 (GMT) on 22 March, 2015, police said.
The 42-year-old's body was discovered at his home on Leicester Road, Wigston three days later.
Mr Cookson's family have teamed up with Crimestoppers to offer a £20,000 reward for information.
Girl, 13, in hospital after crash; Egyptian officials to visit over Nottingham student death
Leicestershire Police said Mr Cookson complained of suffering from a headache after he was involved in the confrontation.
On March 25, 2015, his family called at his flat where they found Mr Cookson dead.
Police said he had died as a result of a fractured skull and associated bleed on his brain.
Two men and a woman who were arrested on suspicion of manslaughter days after Mr Cookson's body was found were released with no further action taken by police.
Posters appealing for information have been put up in locations throughout Wigston and leaflets are being handed out to pedestrians in the area of Leicester Road.
Special beer mats have also been placed in pubs in the area.
Mark's father Robert said without knowing what happened to his son, he cannot move on.
"We can't get over all this. We are still hanging on for people to come forward and help us. It would be relief to know what happened.
"We've not even got his gravestone because it's not right at the moment."
He added: "I know that my son died from a fractured skull and the associated bleed on his brain.
"But three years on, we still don't know how he came by that head injury.
"For three long years, my family has waited for an answer to that question."