Leicester explosion: Football match for shop blast family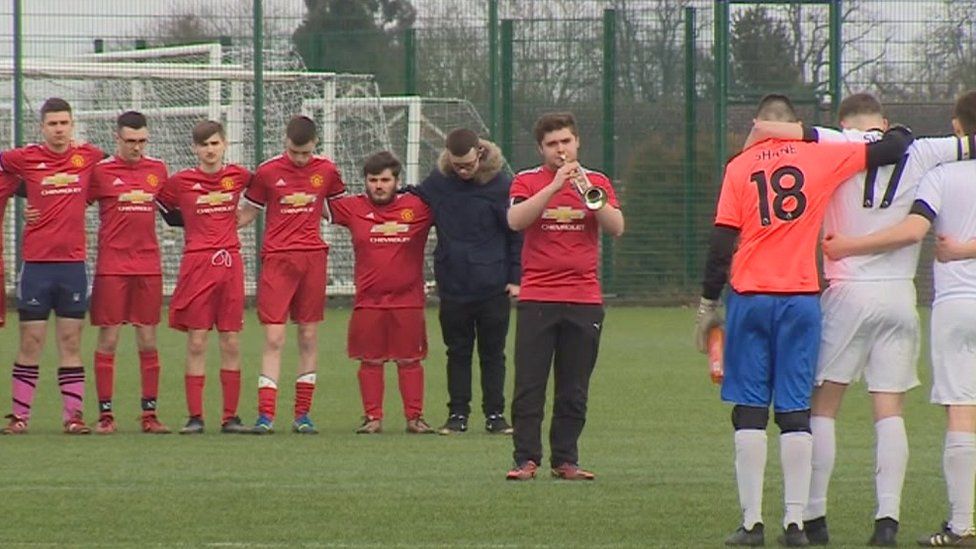 A football match has taken place in memory of three family members who died in an explosion at a shop in Leicester.
The blast in Hinckley Road on 25 February claimed the lives of Mary Ragoobar, 46, and her sons, Shane Ragoobeer, 18, and Sean Ragoobeer, 17.
Shane's girlfriend Leah Reek and shop worker Viktorija Ijevleva also died.
Maurice Allen, one of the organisers, said the boys' friends were desperate to raise about £5,000 to help the remaining members of the family.
Mr Allen, treasurer at Allexton and New Parks FC, said he knew Shane Ragoobeer well, and had coached him and his friends.
"These lads have risen to the challenge and they've become men in the process, they've done their best for [Shane and Sean]," he said.
Matt Dennis, a friend of Shane's, said: "When I found out, I broke down, I couldn't handle it, but it's getting better by the day because we're staying together for him and his family."
Henry B said: "Sean was a pivotal part of our sixth form, the heart of all our friendships... this was the right way to commemorate because football was everything [to them]."
Mrs Ragoobar and her family lived in a two-storey flat above a Polish supermarket.
Her husband, Jose Ragoobeer, was working at the time of the explosion. Their youngest son Scotty survived.
Store owner Aram Kurd, 33, Hawkar Hassan, 32, and Arkan Ali, 37, have been charged with arson and manslaughter.
Inquests into the deaths of the five victims have been opened and adjourned.
The match took place at Allexton and New Parks FC, in Glenfield Road, Leicester, on Monday afternoon.
The £3 entrance fee went towards helping the Ragoobeer family.
Related Internet Links
The BBC is not responsible for the content of external sites.