Leicestershire bottle kicking game one of the 'toughest'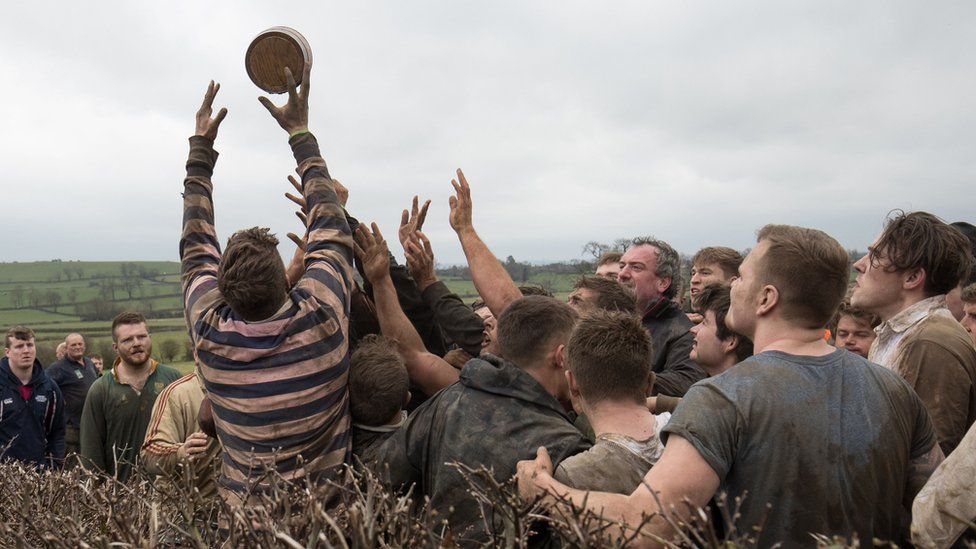 Hundreds of people braved wet and muddy conditions to take part in the historic bottle kicking match played between two Leicestershire villages.
The annual Hallaton Bottle Kicking event, which sees two teams attempt to get small barrels across one of two streams, took place on Monday.
David Marlow, who started the match, said it would be remembered as one of the "toughest".
Hallaton beat Medbourne 2-0, to retain their title.
It is claimed the pastime is one of the country's longest-running sports and dates back to Roman times.
Some believe it was the inspiration for modern rugby.
Hundreds of players braved the wet weather, which led to the closure of the main car park, following the traditional start of eating hare pie.
A minute's silence was held on Hare Pie Hill before Mr Marlow dropped the first bottle, in honour of three men who have died since the last event.
Mr Marlow said: "Hare Pie Hill was soft under foot and very wet in places but what an amazing battle the first bottle was.
"After an intense three-hour battle Medbourne had their winning parish boundary in sight but my Hallaton team would not lie down and kept fighting.
"With both sides absolutely dead on their feet, the second bottle flew down the hill for the 2-0 win to Hallaton."