Richard III Lego mosaic unveiled in Leicester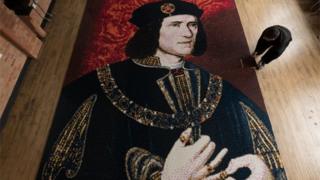 A mosaic of a King Richard III portrait made with more than 96,000 pieces of Lego has been unveiled.
The 10m-long creation of the former King of England based on a 16th Century portrait by an unknown artist took three days to complete.
Richard III was killed at the Battle of Bosworth in 1485 and his remains were found under a car park in 2012. He was later reburied at Leicester Cathedral.
The mosaic was on display at Leicester's King Richard III Visitor Centre.
It was built in conjunction with charity Fairy Bricks, which uses Lego to help children in hospital.
Richard III
He was born at Fotheringhay Castle, Northamptonshire - where Mary Queen of Scots was later executed - in 1452
As Duke of Gloucester, Richard III took a rampant white boar as his sign
At 26 months, his reign was one of the shortest of any monarch in English history
He was the last English king to die in battle