Bogus faith healer Komar Uddin jailed for rape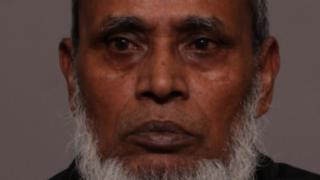 A bogus faith healer has been jailed for 15 years after being found guilty of raping a "vulnerable" teenage girl.
Komar Uddin, 68, of no fixed address, claimed he could get rid of "evil spirits" that he said were affecting the 19-year-old's state of mind.
After the attack in February 2015, Uddin fled the country while on police bail, but was found in Germany.
Det Con Julie Gamble said Leicestershire Police believes he may have preyed on other victims.
Uddin was also found guilty of sexual assault, assault by penetration and causing a female to perform a sexual act without consent.
'Fragile and scared'
Det Con Gamble said: "Uddin preyed on a young, vulnerable woman.
"She was fragile and scared. He knew her state of mind when he committed these offences but that didn't stop him.
"The victim and her family trusted Uddin and put their faith in him when he said he could help them."
She said he applied for asylum in Germany, which meant the force received a notification and could begin extradition proceedings.
Det Con Gamble said: "We believe there may be others who have been subjected to crimes at the hands of Uddin.
"He has lived in various counties since 2006."
Uddin was ordered to sign the sex offenders' register for life at Leicester Crown Court.