Drayton Manor death: Evha Jannath probe 'delay concerns'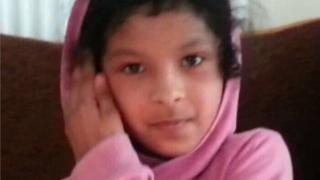 The family of an 11-year-old girl who died after falling from a water ride at a theme park say the investigation is taking too long.
Evha Jannath, from Leicester, fell from the Splash Canyon on a school trip to Drayton Manor a year ago.
A police investigation is ongoing and the coroner's inquest is set to resume on 20 August.
Her brother Muhammed Islam said the family hoped there would be "a quick resolution to all of the inquiries".
"We cannot believe that it has been a year since Evha's death," Mr Islam said. "We miss her every single hour of every single day.
"She was a wonderful daughter, sister, cousin and niece and we still miss her dreadfully."
Mr Islam said the family would gather to commemorate Evha's life and "remember all the good times that we had with her".
Leicester East MP Keith Vaz, who has represented the family since Evha's death on 9 May 2017, said they were "very concerned about the delay" in the investigations.
''The family are obviously still devastated by the tragic death of young Evha," he said.
"The concerns of the family are clearly that, one year on, the inquiries have yet to be completed and the coroner's inquest has yet to take place."
Mr Vaz, who called for tougher safety legislation for theme park water rides during a Commons debate, said discussions were under way.
Staffordshire Police said the force is still working with the Health and Safety Executive and Crown Prosecution Service "to establish what happened".