Early feminist Lady Florence Dixie honoured with plaque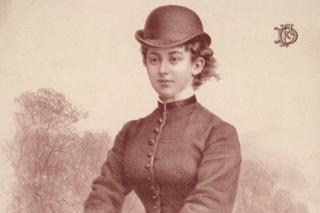 An early feminist who pioneered women's football and predicted the UK would have a female prime minister before 1999 is being honoured with a plaque.
Lady Florence Dixie was president of the British Ladies' Football Club when it formed in 1895 - despite medical professionals calling for women and girls to be banned from playing.
She was also a strong supporter of the suffragette movement.
The plaque has been installed at Bosworth Hall Hotel in Leicestershire.
East Midlands Live: Bin lorry tribute to six-year-old cancer victim; Tragic teenager Mariam Moustafa to be returned to Egypt
Lady Florence was Scottish but she lived at the hall in Market Bosworth between 1875 and 1883.
The Market Bosworth Society nominated her to be honoured, and its chairman Nigel Palmer described her as "a woman ahead of her time".
"She explored Patagonia at the age of 23, which was quite a trip in those days, and wrote a book about her travels, which was probably unheard of for a young lady of that age," he said.
"She wrote a book called 'Gloriana, or the Revolution of 1900' which correctly predicted there would be a female prime minister before 1999.
"She also reported on the Boer War for the Morning Post, and the aftermath of the Zulu War."
The women who fought to play football
Britain's first recorded international women's football match was played in Edinburgh in May 1881
Another game followed in Glasgow a few days later but it had to be abandoned when hundreds of men ran on to the pitch
In 1894, medical professionals called for girls and women to be banned completely from the game
The British Ladies' Football Club was formed in 1895 with Lady Florence Dixie as its president and Mary Hutson, who played under the pseudonym Nettie Honeyball, as its team captain
Lady Florence is not thought to have played football herself. She participated in blood sports but later condemned them as cruel in her 1891 book The Horrors of Sport
In 1921 the Football Association banned women from playing on FA-affiliated pitches, saying football was "quite unsuitable for females". The ban remained in place for 50 years.
Read more: The Honeyballers - Women who fought to play football
Women's football kits have links to the suffragette movement and Lady Florence saw football as a weapon to subvert Victorian dress.
"There is no reason why football should not be played by women, and played well too, provided they dress rationally and relegate to limbo the straitjacket attire in which fashion delights to attire them," she wrote in 1895.
She died of diphtheria in 1905 at the age of 50.
The honour is part of a green plaque scheme in Leicestershire which recognises important people from the county.
It is due to be unveiled on Thursday afternoon in the presence of Lady Florence's great-great-granddaughter.