Isla Tansey: Stones legacy hope after terminally ill campaigner dies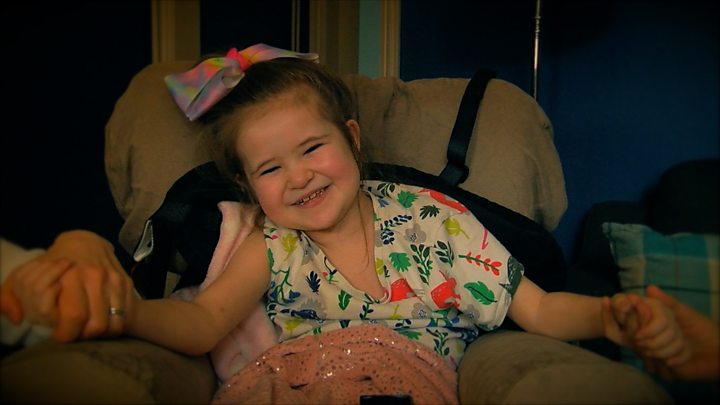 A terminally ill seven-year-old girl who inspired people across the world to decorate and hide stones has died.
Isla Tansey, from Hinckley, Leicestershire, asked people to take selfies when they found the painted stones and post them on social media.
Her aunt Jackie Moore told the BBC that Isla, who had a rare form of spinal cancer, "just went to sleep peacefully at home" on Tuesday evening.
Her parents hoped the #islastones campaign would create a "legacy".
Ms Moore said Isla was at home with her parents Katherine and Simon and 10-year-old brother Harrison when she died.
"We are all together as a family, trying to process the massive loss," she said.
"We are taking each day as it comes and trying to take hold of all our emotions and trying to keep strong."
Isla's aunt Laura Smith wrote on Facebook: "It is with a heavy heart and the deepest sadness that our beautiful princess Isla has passed away peacefully yesterday evening.
"We are all devastated."
Ms Smith said Isla's parents had asked for space to be with friends and family and thanked everyone for their love and support.
In August last year Isla woke up unable to walk and had an operation to remove a tumour.
She lost the ability to walk and in April she was given just weeks to live.
The #islastones campaign spread across the globe and reached Antarctica and America.
People were asked to paint stones and then hide them.
When the rocks were found people were encouraged to post photos online using #islastones - then re-hide them for others to discover.
Australian researchers based in Antarctica also took part along with hundreds of others to honour Isla.
Holiday firm Thomas Cook joined the campaign by adding a stone decorating activity at kids' clubs at its resorts.
Follow BBC East Midlands on Facebook, on Twitter, or on Instagram. Send your story ideas to eastmidsnews@bbc.co.uk.