Leicester jeweller murder trial: Man hid 'gun in a burka'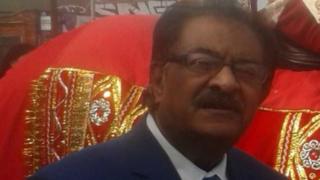 One of the men accused of killing a jeweller has said a co-defendant entered the victim's shop with a gun hidden beneath a burka.
Ramniklal Jogiya was abducted near his Leicester shop on 24 January, with his body found in Stoughton the next day.
Charlie Mcauley 20, of Braunstone, told Birmingham Crown Court his role was to drop someone off at Mr Jogiya's shop but "things got muddled up".
He also told the jury the plan to target the jeweller was not his idea.
Mr Mcauley said it had first been discussed with his co-accused Thomas Jervis, 24, of Whetstone, and he was "asked to be involved".
He told the judge his understanding of his part was to drive to Mr Jogiya's shop on Belgrave Road, drop someone off and drive away on the night of 24 January.
However, the court heard that Mr Jogiya was taken into the van and Mr Mcauley then drove to a football stadium in Birstall.
He told the jury, while he was driving: "I heard the words 'robbery and alarm' and then I turned the radio up."
Mr Mcauley said Mr Jervis was handed a gun by two individuals in the back of the van and was told to use it when he went back into the shop, dressed in a burka, to scare anyone off if they came in.
He held the gun while Mr Jervis put on the burka and saw him put it inside, the court heard. Mr Mcauley denied knowing a gun was part of the plan.
Mr Mcauley, Mr Jervis and Callan Reeve, 20, from Leicester, admit kidnap and robbery but deny murder and manslaughter.
Javon Roach, 30, of Norwich Road, Leicester denies all the charges.
The trial continues.
Follow BBC East Midlands on Facebook, on Twitter, or on Instagram. Send your story ideas to eastmidsnews@bbc.co.uk.