Gardeners' World pays tribute to Loughborough's 'Mr Bloom'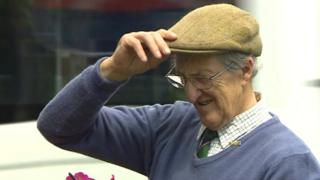 Tributes have been paid to a Leicestershire town's "Mr Bloom" who died a day after featuring on BBC TV's Gardeners' World.
Harry Cook, 73, who died at home on Thursday, played a key role in the success of Loughborough in Bloom and is considered an inspiration to the town.
He and his wife Pat are famous for their displays at their home in Forest Road which has become a local landmark.
BBC Gardeners' World said Mr Cook was "one in a million".
The programme team tweeted: "[Harry's] work with Loughborough in Bloom won the heart of the nation when he appeared on #GardenersWorld this week, and our thoughts are with his family and everyone who knew him..."
Mr Cook said in the episode on Wednesday that he had lived with his Pat in a house on the Forest Road roundabout for 52 years.
He said: "When I started with Loughborough in Bloom the whole area on the roundabout looked very untidy, so with permission from the county council I started looking at ways of improving it."
He also helped to maintain a nature reserve behind his property known as the Green Belt.
Andy Rush, former chair of Loughborough in Bloom, said: "Harry was a lovely chap who bridged all parts of the community, across all walks of life.
"He was always willing to help anybody and definitely an inspiration to the town. He'll be missed."
Loughborough MP Nicky Morgan said Mr Cook was "wonderful", while Councillor Jonathan Morgan, leader of Charnwood Borough Council, said his work for the community had been "immense".
He said: "Harry and Pat's home is one of the most recognisable sites in Loughborough.
"It is perhaps fitting that just this week their beautiful home, one of the highlights in the annual bloom judging, appeared on BBC Gardeners' World - the pinnacle for many gardeners."
The Gardeners' World tweet drew many responses from people expressing their sadness.
Karin Hawkes said: "The world would be a better place with more people like him."
Pip Ostell tweeted: "Harry was a real character and we always admired his flowers. Really brightened up a drab ring road RIP Harry."
You may also be interested in:
Follow BBC East Midlands on Facebook, on Twitter, or on Instagram. Send your story ideas to eastmidsnews@bbc.co.uk.