Longest football match record attempt begins in Leicester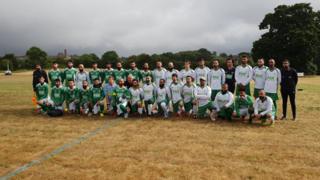 Footballers are aiming to play a match non-stop for five days and four nights to break the longest game world record.
The match began at 9:00 BST in Leicester and the men need to play for 109 hours, finishing on Friday, to break the current Guinness World Record of 108 hours with 36 players.
The 36 players will take turns and must remain close to the pitch throughout the record attempt.
The One Nation challenge aims to raise £100,000 for the Rohingya crisis.
More than 700,000 Rohingya people have fled the destruction of their homes and persecution in the northern Rakhine province of Myanmar (formerly known as Burma) since August 2017.
The players will be scheduled to come on and off the pitch on a balanced shift pattern over the 109 hours, which is the equivalent length of 72 games.
Sarfraz Hussain, organiser of the event at West Gate School, in Leicester, said: "The players will be coming on for approximately two hours or three hours at a time and rotating for 24 hours for five days."
He added: "A lot of the guys have come on board for two reasons - they love football and they want to break this Guinness World Record for an amazing cause.
"We are hoping to meet the target of £100,000, which will impact on the lives of 30,000 men, women and children in one of the largest refugee camps in the world."
The Rohingya, who numbered around one million in Myanmar at the start of 2017, are one of the many ethnic minorities in the country.
The United Nations described the military offensive in Rakhine, which provoked the exodus, as a "textbook example of ethnic cleansing".
Myanmar's military said it is fighting Rohingya militants and denies targeting civilians.
Follow BBC East Midlands on Facebook, on Twitter, or on Instagram. Send your story ideas to eastmidsnews@bbc.co.uk.