Great Central Railway: Steam trains remembered 50 years on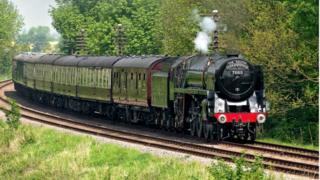 A heritage railway is marking the 50th anniversary of British Rail's last mainline, steam powered service.
Great Central Railway, in Loughborough, is holding a steam gala featuring one of the engines used in that final passenger service on 11 August 1968.
The 70013 Oliver Cromwell was involved in the charter return trip from Liverpool to Carlisle.
National Railway Museum (NRM) curator Anthony Coulls, said the steam locomotive was "very emotive".
Mr Coulls, who will be at the event, said: "I grew up after the age of steam but August '68 was a date that was ingrained in my mind as a young railway enthusiast.
"To be able to be part of the 50th anniversary with the loco that brought the curtain down is quite significant."
The final service was known as the Fifteen Guinea Special because of the cost of a ticket, worth slightly more than £15.
Taking inflation into account, this would be equivalent to about £260 today.
A ban on all mainline steam traffic was implemented on 12 August as more efficient and cheaper diesel and electric locomotives were introduced across the UK.
Many locomotives were scrapped but a number were preserved privately and by the NRM in York.
Four steam locomotives will appear at Grand Central Railway, taking passengers on trips through Leicestershire.
Mark Smith, vice chairman of the Heritage Railway Association, was one of the 450 passengers on board the Fifteen Guinea Special.
He said: "I was walking on air. Never in my wildest dreams did I think I might be on this train. It was absolutely magical."
Mr Smith added that huge crowds of spectators lined the tracks throughout the journey.
He said: "I don't think we were ever away from people watching the progress of the train, even in the most remote parts of northern England.
"My travelling companions and I agreed we'd never seen anything like it before and we were never going to see anything like it again."
Follow BBC East Midlands on Facebook, on Twitter, or on Instagram. Send your story ideas to eastmidsnews@bbc.co.uk.