Lee Rigby charity fundraiser 'used profits to fund flop single'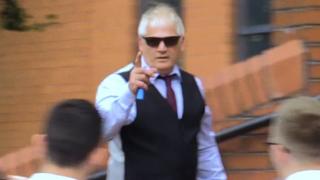 A lorry driver used thousands of pounds raised to help the son of murdered soldier Lee Rigby to make a single he was warned would fail, a court heard.
Gary Gardner raised at least £24,000 for charity through a series of events, but only £4,000 made its way to any organisation.
Some funds were used to make "Miss You Machine", Leicester Crown Court heard.
The 56-year-old, of Old Holt Road, Medbourne, denies three counts of fraud.
Jurors heard Mr Gardner put on three fundraising truck-pull events in 2013, 2014 and 2015 in Medbourne and Market Harborough that were attended by thousands, including Fusilier Rigby's widow Rebecca and their son Jack.
Fusilier Rigby was killed outside Woolwich Barracks in south-east London in May 2013, and two men were jailed for his murder the following year.
Mr Gardner had an "enthusiasm for promoting emerging music artists", and despite being warned by members of the chart-topping Military Wives choir it would fail, he funded the production with some of the money raised.
Some funds were also used to fund travel expenses for trips to London, the trial heard, while money was also transferred from a charity bank account to a personal account.
Sam Skinner, prosecuting, said Mr Gardner was "using the names of Private Lee Rigby and his son" and diverted funds "for a purpose that the original donors never intended and would not have approved".
"The defendant has never handed any of the money raised on behalf of Jack Rigby for his trust fund over to Jack Rigby," he said.
"[He] kept no accurate records of exactly how much money he raised on Jack Rigby's behalf."
Mr Skinner said Mr Gardner was aware his charity single would be "a flop", while his promotion of other acts "swallowed up most of the verifiable donations".
The trial continues.
Follow BBC East Midlands on Facebook, on Twitter, or on Instagram. Send your story ideas to eastmidsnews@bbc.co.uk.