NHS 'female parts' gynaecology definition slammed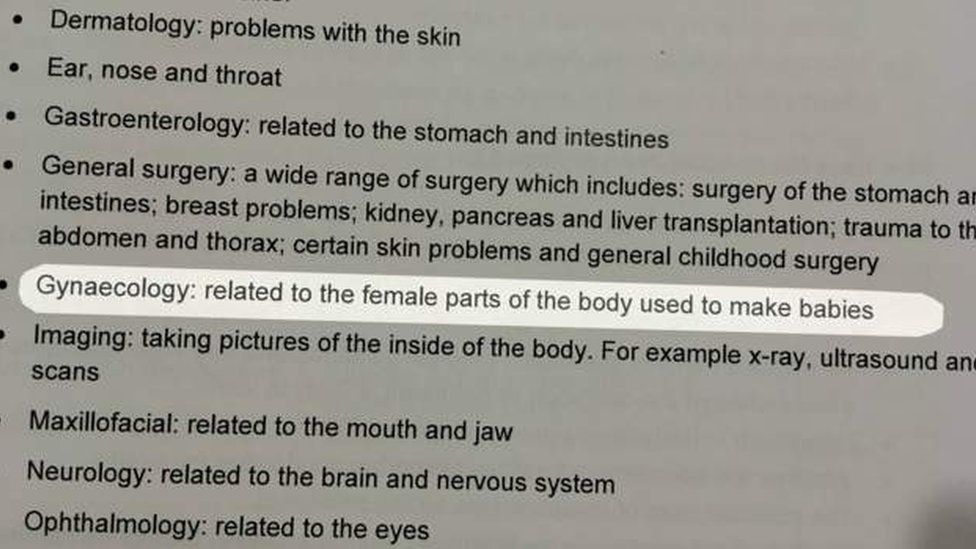 A "demeaning" health report had been criticised for using "childish wording" to define gynaecology.
The document, presented to councillors in Leicestershire, described the discipline as "related to the female parts of the body used to make babies".
It was branded unprofessional and insulting at a health policy meeting on Tuesday.
West Leicestershire Clinical Commissioning Group (CCG) apologised and said it was trying to avoid jargon.
Speaking at the meeting, Leicester city councillor Lucy Chaplin said it was "shameful" such "childish wording" had gone into a formal policy.
Amanda Hack, a county councillor, said she was "disappointed" with the language used.
'Reductive, patronising and insulting'
"My son is 11 and has just done sexual health awareness at primary school and he didn't talk in that language," she said.
"He was able to convey that women's bodies and reproduction wasn't simply where babies come out. To say I was a little bit shocked was an understatement."
While Maggie Wright, also a county councillor, added: "It was so unprofessional in a document of that calibre. It was just demeaning really."
Katy Wheatley, from the Leicester Mercury Patients' Panel, said: "This is the NHS. This is their professional opinion as to what gynaecology is and it is really not good enough. I think it is reductive, patronising and insulting."
The Planned Care Policies report, by the county's three CCGs, aimed to provide "simple definitions" of technical terms.
It describes dozens of conditions and procedures, including ear wax removal, fungal nail infection, and "congenital pigmented lesion of the face" (birthmark).
Male circumcision is described as "the removal of a man's foreskin from the penis".
Elsewhere, the document makes specific reference to parts of the female reproductive system, such as the womb, uterus and fallopian tubes.
Ket Chudasama, from West Leicestershire Clinical Commissioning Group, said: "We put a great deal of effort into removing the medical jargon from the document and using very simple language that everyone would be able to understand.
"Unfortunately we didn't get it quite right on this occasion, and we apologise if we have caused any offence."
He added that they will change the phrasing.
Related Internet Links
The BBC is not responsible for the content of external sites.