Leicester City helicopter crash: Who were the victims?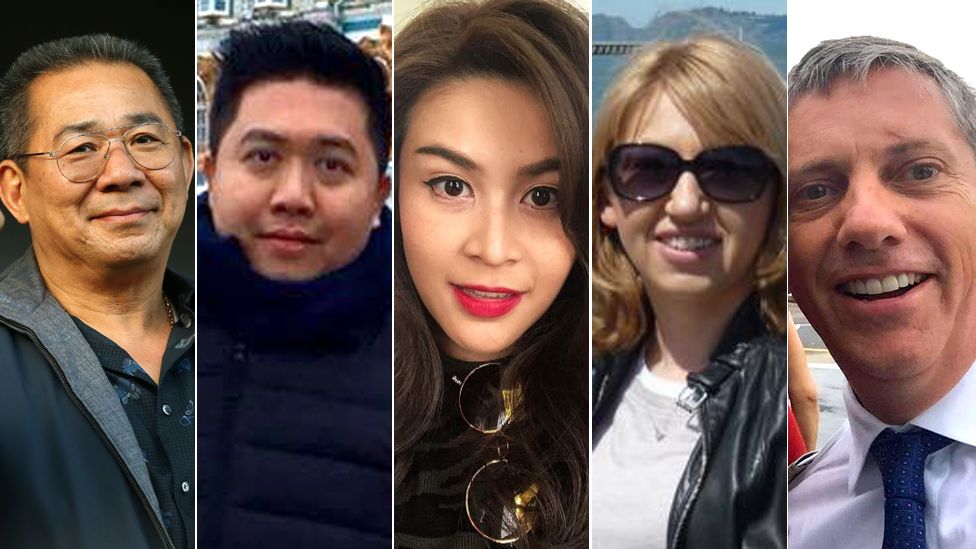 A helicopter which crashed in flames near Leicester City FC's ground on Saturday night killed five people, including the owner of the club.
Vichai Srivaddhanaprabha died along with two members of his staff, the pilot and the pilot's partner.
The investigation will look into how the Agusta Westland AW169 crashed in what is believed to be the first accident involving that model of aircraft.
Here is what we know so far about the victims.
Leicester City chairman Vichai Srivaddhanaprabha
Vichai Srivaddhanaprabha, 60, was a billionaire and founder of duty-free consortium King Power International.
He bought Leicester City in 2010 for £39m. He cleared their debts and saw the club win promotion to the top flight four years later.
They then beat odds of 5,000-1 to claim the Premier League title in 2015-16 in one of the greatest sporting surprises of all time. The Foxes reached the Champions League quarter finals a year later.
After the remarkable Premier League title victory he donated £2m to Leicester Hospitals Charity to help develop a new children's hospital at Leicester Royal Infirmary.
The father-of-four was ranked as the fifth richest person in Thailand by Forbes Magazine.
BBC South East Asia correspondent Jonathan Head said Mr Vichai "never gave interviews", so "although much-loved in Leicester, he remained something of an enigma".
The owner would fly to Leicester's home games in his helicopter from his property in London - or his other house in Berkshire where he kept his horses - then return the same way.
"He loved living in the UK and loved the lifestyle his enormous wealth could bring," said Mr Head. "He was a great connoisseur of fine wines, he loved gambling and he loved horses."
The Duke of Cambridge, who is President of the Football Association, said in a statement: "I was lucky to have known Vichai for several years. He was a businessman of strong values who was dedicated to his family and who supported a number of important charitable causes.
"He made such a big contribution to football, not least through Leicester City's magical 2016 season that captured the imagination of the world."
Mr Swaffer, 53, was the pilot of the helicopter and had more than 20 years of flying experience as a private jet and helicopter pilot.
He flew helicopters for live media broadcasting including Channel 4's The Big Breakfast and Virgin Radio traffic reports.
Mr Swaffer's friend Lucie Morris-Marr said he was a "veteran in the field" and would have done all he could to prevent lives being lost in the crash.
She described him as a "funny and vivacious" man who was in an "aviation love story" with Izabela Roza Lechowicz who also died in the crash.
The couple lived together in Camberley, Surrey.
Mr Swaffer was a former pupil of Brighton College and head teacher Richard Cairns said it was with "great sadness" the school learned of his death.
He said: "Eric was at Brighton College from 1979 to 1983 and fell in love with flying when, as a schoolboy CCF cadet, he visited an Royal Navy ship flight deck. His contemporaries and teachers remember him as a kind and popular boy. We send our deepest condolences to his family."
Sanjay Menzies, who is also a pilot, said he got to know Mr Swaffer in 2010 after selecting him "out of I think about 120 pilots" to train him on a larger aircraft.
He said: "Eric was the first name on the list and was an extremely professional, experienced aviator.
"So I flew with him for a couple of months exclusively. I learned everything about the aircraft from Eric."
Pilot Izabela Roza Lechowicz
Ms Lechowicz, who was also a pilot, moved to the UK from Poland in 1997.
The 46-year-old was a winner of the #polka100 award, an accolade for "exceptional women who inspire the Polish community in Britain".
Her profile on the Polish Embassy website said she first came to the UK just after graduating from a food technology course in Wroclaw.
She said on the website: "I quickly met my current partner, who is a pilot flying passenger planes and helicopters. He took me with him several times - and that's how it began. From the first touch of the controls, I knew that this was it."
In a statement, the Polish Embassy said: "With great sadness, we received the news about the death of Izabela Lechowicz in the Leicester catastrophe.
"She was a great pilot, winner of the #Polka100 contest. It contributed to the creation of a positive image of Poland in the UK."
Ms Nusara was a runner-up in Miss Thailand Universe in 2005 where she was listed as being from Bangkok province. Her performance won her the title Miss Intercontinental Thailand and Miss Photogenic.
The 32-year-old was a member of the chairman's staff and was active on Instagram, where she posted some photographs with Leicester City players.
Her profile also showed that she travelled extensively, posting photographs taken in Thailand, Paris, the Cotswolds, and London in the last couple of months.
Mr Kaveporn, 33, from Bangkok, was a member of Mr Vichai's staff.
He was one of the chairman's personal assistants.
Related Internet Links
The BBC is not responsible for the content of external sites.