East Midlands Ambulance Service delay investigated after man dies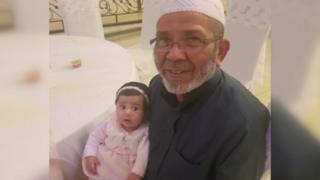 The family of a man who died after waiting more than an hour for an ambulance believe he might still be alive if it had arrived sooner.
Suleman Patel's wife called 999 in the early hours of 7 November after he complained of chest pains.
She called for an ambulance five times before it arrived at their home - but Mr Patel died shortly afterwards.
East Midlands Ambulance Service apologised for the delay and said it had launched an investigation.
Mr Patel, 62, from Highfields, Leicester died from a cardiac arrest.
'Condition worsening'
His family said they were told for an hour and a half there were no ambulances available.
"His condition was worsening and we explained to them he was deteriorating by the minute," said his son Mohammed Patel.
"They just apologised saying we can't get anyone out at the moment but someone will be with you shortly.
"You expect them to come quicker but the delay was just too long."
"We're left questioning why didn't they come," said Mr Patel's daughter, Sumaiya Abubakar.
"It was a life-threatening situation yet she [their mum] was told we have other life-threatening situations to deal with."
East Midlands Ambulance Service (EMAS) said the call was classed as Category 2 and the national standard is to answer nine out of 10 of these within 40 minutes.
Ben Holdaway, a spokesman for the EMAS, said: "We have already contacted the family to make them aware that we have concerns about our response to the 999 call.
"A formal investigation has been started and when it is complete the findings will be shared directly with the family."
He said it would look at the reasons for the delay and whether an ambulance could have been diverted from a less serious call.
The investigation is expected to take up to six weeks.
Follow BBC East Midlands on Facebook, Twitter, or Instagram. Send your story ideas to eastmidsnews@bbc.co.uk.