Leicester explosion: Shopkeeper 'hungry for money'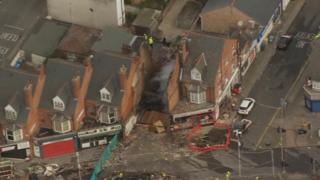 An ex-prisoner told jurors a man accused of blowing up a shop admitted causing the fatal blast because he was "hungry for money".
Five people, including three members of the same family, were killed in the explosion in Leicester in February.
The unnamed witness told Leicester Crown Court he and Aram Kurd also discussed ways to cover up the crime, which was designed to claim insurance.
Shopkeeper Mr Kurd and two other men all deny five charges of murder.
The witness told the court he withdrew his help when he found out how many people were killed.
The explosion happened at 19:01 GMT on 25 February in Hinckley Road, destroying the Zabka supermarket on the ground floor and the flat above it.
Mary Ragoobar, her sons Shane and Sean Ragoobeer, Shane's girlfriend Leah Reek and shop worker Viktorija Ijevleva died. Another member of the family and a passerby were seriously injured.
Mr Kurd, 34, of Hillary Place, Leicester, Hawkar Hassan, 33, of no fixed address, and Arkan Ali, 37, of Drake Close, Oldham, are accused of causing the explosion in order to make about £300,000 from insurance.
The prosecution said previously that Mr Ali poured petrol in the basement of the building, which was lit by either him or Mr Kurd, while Mr Hassan acted as the getaway driver.
The court heard from a witness on Thursday who was for a time in prison with Mr Kurd.
He claimed Mr Kurd confessed he, along with the two other defendants, set his ailing business alight using petrol and hoped to make it seem like an accident.
Mr Kurd said there would be a bigger payout if people died, the court was told.
According to his former cellmate, Mr Kurd wanted his assistance to "find a lie", a story to avoid suspicion.
The court heard the pair regularly discussed what happened and the witness even took notes and drawings in a bid to help.
The witness said he did not expect to get anything for telling the police but did in fact earn a reduced sentence.
Mr Kurd, Mr Hassan and Mr Ali each deny five charges of murder, five charges of manslaughter and a charge of conspiracy to commit fraud by false representation.
The trial continues.
Follow BBC East Midlands on Facebook, Twitter, or Instagram. Send your story ideas to eastmidsnews@bbc.co.uk.