Osprey photographers across Europe descend on trout farm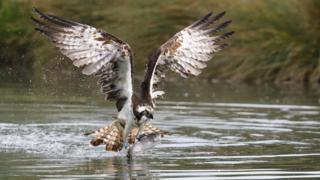 An osprey hide - set up at a trout farm where the birds kept stealing the fish - is attracting photographers from across Europe.
Horn Mill Trout Farm opened the hide after the birds of prey kept stealing fish from their trout hatchery.
Visitors from the likes of Germany, Spain and the Netherlands have paid the entrance fee to see them in action.
Manager Jamie Weston said it's allowed them to restructure the fish farm business and keep local wildlife fed.
Translocation projects in 1996 and 2005 saw a selection of osprey chicks bought from Scotland to Rutland as an effort to reintroduce the bird of prey to England.
As the number of ospreys increased, the number of trout at the nearby farm decreased, and by 2013, it was having a "significant impact" on business.
Mr Weston said it was costing them about £20,000 a year.
A decision was made to put netting over the ponds to stop the ospreys from stealing the fish.
After netting five of the six ponds, Horn Mill Trout Farm said they were approached by the Rutland Osprey Project, who suggested leaving the largest pond uncovered.
In return, they built a four-person hide for photographers.
Mr Weston said they were "apprehensive" about the idea at first.
"It's not a massive money spinner, but it makes it worthwhile and has allowed us to restructure the business," he said.
The increasing amount of wildlife and demand from photographers wanting to picture it has led to the farm owner, Lawrence Ball, rebuilding the hide to fit more people.
Follow BBC East Midlands on Facebook, on Twitter, or on Instagram. Send your story ideas to eastmidsnews@bbc.co.uk.