Royals visit new Defence Medical Rehabilitation Centre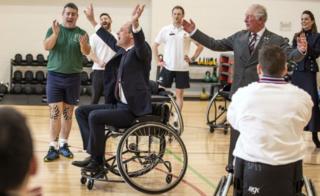 The Prince of Wales and Duchess of Cornwall, along with the Duke and Duchess of Cambridge, have carried out a joint tour of the Defence Medical Rehabilitation Centre (DMRC).
The rare joint engagement saw the four royals meet patients during the visit to the £300m centre in Nottinghamshire.
The facility, which helps military amputees, opened at Stanford Hall near Loughborough, in 2018.
Prince Charles and Camilla have also visited Leicester city centre.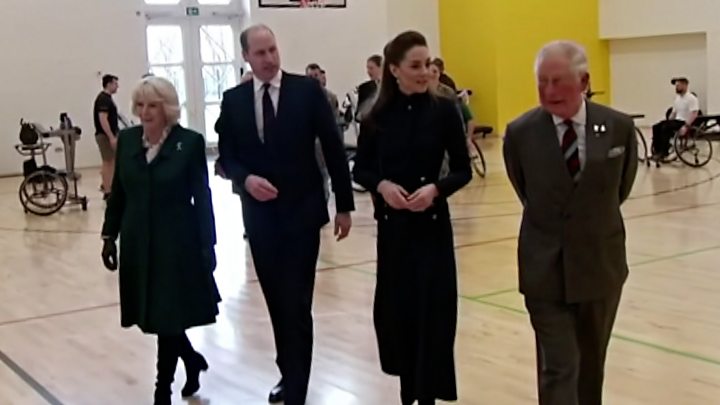 The DMRC, which replaced Headley Court in Surrey, first began admitting patients suffering from battlefield, neurological or other injuries and illnesses in October 2018.
Analysis
By Daniela Relph, BBC royal correspondent
There is no question these have been turbulent times for the Royal Family but this engagement was a chance to showcase a bit of family unity.
It's highly unusual to see four royals working at the same public engagement. We haven't seen the Prince of Wales and Duchess of Cornwall alongside the Duke and Duchess of Cambridge on official business together since 2011.
As the four of them walked into the Defence Medical Rehabilitation Centre, side by side, the mood music was clear.
With no Meghan and no Harry this foursome is now effectively the public, working face of the Royal Family.
The Queen is still in charge but she is doing far less and the quartet I watched today are the future.
Observing these four working royals together was interesting for the message it sent out.
It said every family has its own problems to navigate but this Royal Family is now trying to move forward through the fog of some very public family dramas.
During the tour Prince William was "loaned" a wheelchair by Major Les Reid, 49, to have a go at basketball.
When the prince missed his fifth shot, his father placed his hands around his son's neck and jokingly shook him.
However, he did not miss a sixth time, saying afterwards it had taken "a while" to get his aim in.
Maj Reid, originally from Liverpool, is at the centre to receive strengthening treatment before an operation on a long-term ankle injury sustained in a climbing accident.
Prince William, who was patron of the DNRC appeal, attended the official handover of the centre to the nation in June 2018.
Prince Charles and Camilla also visited Leicester to meet stallholders and members of a local women's charity.
The prince later unveiled a commemorative plaque in the newly named Green Dragon Square after meeting members of the public.
Follow BBC East Midlands on Facebook, Twitter, or Instagram. Send your story ideas to eastmidsnews@bbc.co.uk.