Leicester boy left with skull fracture after e-scooter crash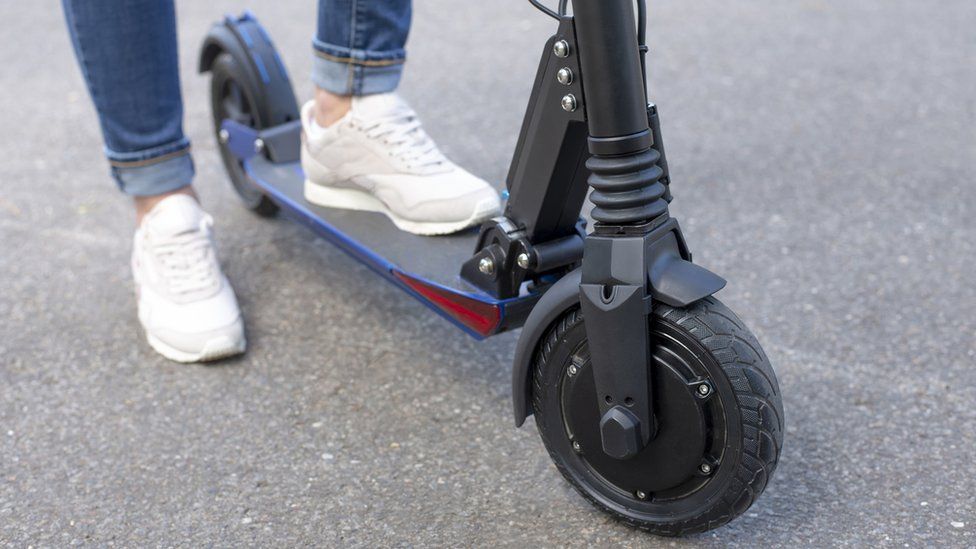 The sister of a six-year-old boy left with a fractured skull after being hit by an electric scooter has said he is now "petrified" of the outside world.
Brooklyn Smith said her brother Jamie was on the pavement outside his home in Leicester last August when the e-scooter crashed into him.
The scooter rider, 17, has since admitted multiple offences in relation to the crash.
Ms Smith is now warning others about the dangers of "powerful" e-scooters.
Leicestershire Police said Jamie was with his father when he was hit by the scooter.
He was treated at the Queen's Medical Centre in Nottingham after emergency services were called to the scene in Elston Fields in Leicester.
Police said the rider failed to stop and rode off, but was later identified after a family appeal.
He pleaded guilty to six motoring offences, including causing serious injury by dangerous driving, failure to stop after an accident and use of a motor vehicle without insurance, at Leicester Youth Court on Monday.
He is due to be sentenced on 12 April. Police confirmed the scooter had been seized.
Ms Smith, 21, said Jamie's injuries - which also included multiple cuts and bruises - have healed but the psychological damage is still "really raw".
She added he is still struggling to understand what happened to him and "gets constant nightmares about it".
"He still has a fear of what is going on in the outside world.
"His scars have healed but it's not like it's all over and done with.
"It's still really fresh and really raw for him," she said.
She said some days it takes her brother 10 minutes to work up the courage to leave the house.
"He's just petrified," she said.
Ms Smith is now warning others about the use of e-scooters, adding they are "dangerous things".
"Unless you've got a big enough back garden, don't get on one because they're too powerful for what they are - it hit Jamie at 24mph," she said.
"You wouldn't get on a motorbike or in a sports car and start driving it on paths."
PC Kieran Dempsey, from the force, added: "In Leicester, Leicestershire and Rutland, it is illegal to use an electric scooter on a public highway. The government is currently running trials of electric scooters (e-scooters), however this trial is not taking place in the Leicestershire force area.
"If you use an e-scooter illegally you could face a fine, get penalty points on your licence, and the e-scooter could be impounded."
E-scooters: Where can you use them?
Electric scooters are classified as "powered transporters" by the Department for Transport (DfT) and are subject to all the same legal requirements as a motor vehicle.
It is illegal to use an e-scooter on a public road, pavement or cycle lane.
E-scooters can only be used on private land with the permission of the landowner.
E-scooters that are rented from DfT-approved schemes - like those in Nottingham and Derby - can be used on the road (except motorways) and in cycle lanes.
The trial rules do not apply to privately-owned e-scooters.
Related Internet Links
The BBC is not responsible for the content of external sites.