Seyi Omooba: Actress sacked over anti-gay post must pay legal costs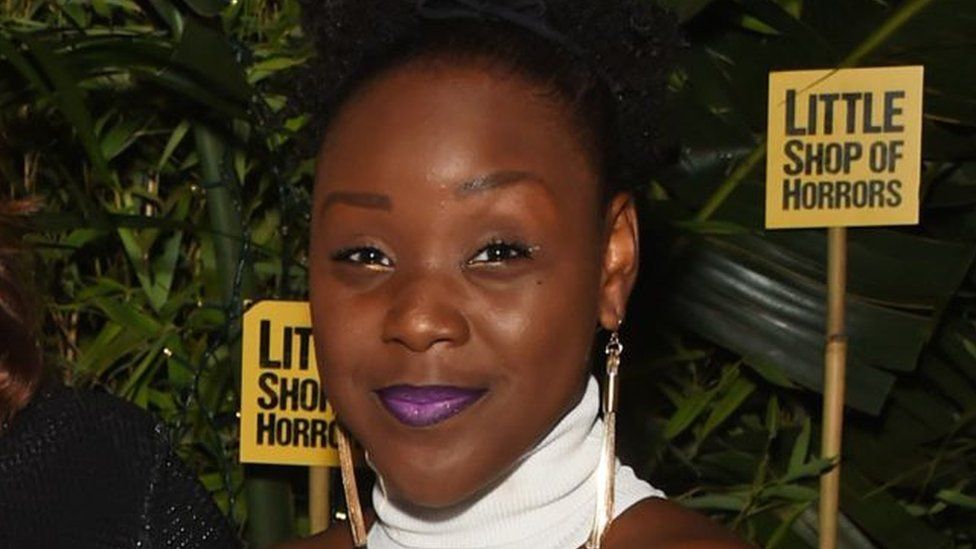 A Christian actress sacked for posting an anti-gay comment on Facebook could have to pay more than £300,000 in legal costs after losing a tribunal.
Seyi Omooba was due to perform as Celie - a lesbian role - in a stage production of The Color Purple.
Tribunal judges said her claims for discrimination, breach of contract and harassment had no prospect of success.
They ordered her to pay costs to her former agency and Curve in Leicester, where she was due to perform.
These are for £53,839 and £259,356 respectively, but she could pay less subject to an assessment.
Miss Omooba's Facebook post, from 2014, referenced Biblical texts and said: "I do not believe you can be born gay, and i do not believe homosexuality is right, though the law of this land has made it legal doesn't mean its right."
@Seyiomooba Do you still stand by this post? Or are you happy to remain a hypocrite? Seeing as you've now been announced to be playing an LGBTQ character, I think you owe your LGBTQ peers an explanation. Immediately. pic.twitter.com/GK2xbzZYgy

— Aaron Lee Lambert (@aleelambert) March 15, 2019
She signed up to play the lead role of Celie in The Color Purple in 2019, having not read the script for the production, which is based on Alice Walker's novel of the same name.
Celie is a woman who has a sexual relationship with another female character, called Shug.
Miss Omooba told the tribunal she had read the book at school and watched Steven Spielberg's film version, starring Whoopi Goldberg. However, the film version plays down the physical relationship between Celie and Shug.
The tribunal judgment said she had "not done her homework or been paying attention, and that she still thought of the work in the frame of the Spielberg film".
Miss Omooba's Facebook post came to light on 15 March 2019, when it was tweeted by another actor, who was unconnected to the play.
The tribunal heard it sparked a social media backlash and she was dropped by Leicester Theatre Trust Ltd six days later, following discussions in which she stood by her views.
Her contract with her agency, Michael Garrett Associates Ltd (Global Artists), was also terminated three days later.
In bringing the tribunal, Miss Omooba was represented by the Christian Legal Centre, co-founded by her father, pastor Ade Omooba MBE.
At the tribunal she sought £4,309 from the theatre plus a further £25,000 for injury to feelings and reputational damage.
She also sought £98,752 from her agents for loss of earnings, future losses, injury to feelings and reputational damage.
The panel rejected these demands.
"There is no financial loss because she would not have played the part," the judgment said.
'Remain kind and respectful'
In a statement, Curve said it was "pleased" Miss Omooba had been ordered to pay costs.
"We have always felt the case lacked any merit from the outset, but Seyi Omooba and her legal team continued to disregard our pleadings and chose to take our theatre to court irrespective of the facts," it said.
"Whilst we welcome this news, we would like to reiterate we do not condone any negativity aimed at Seyi Omooba and we respectfully ask anyone in support of Curve to remain kind and respectful."
The Christian Legal Centre said Miss Omooba will appeal the employment tribunal ruling.
Chief executive Andrew Williams said: "The tribunal has effectively joined the campaign of 'cancelling' Seyi for her Christian beliefs. She and we are not intimidated and we have now lodged an appeal."
Related Internet Links
The BBC is not responsible for the content of external sites.