Leicester family's under-threat eco-bike shed gets reprieve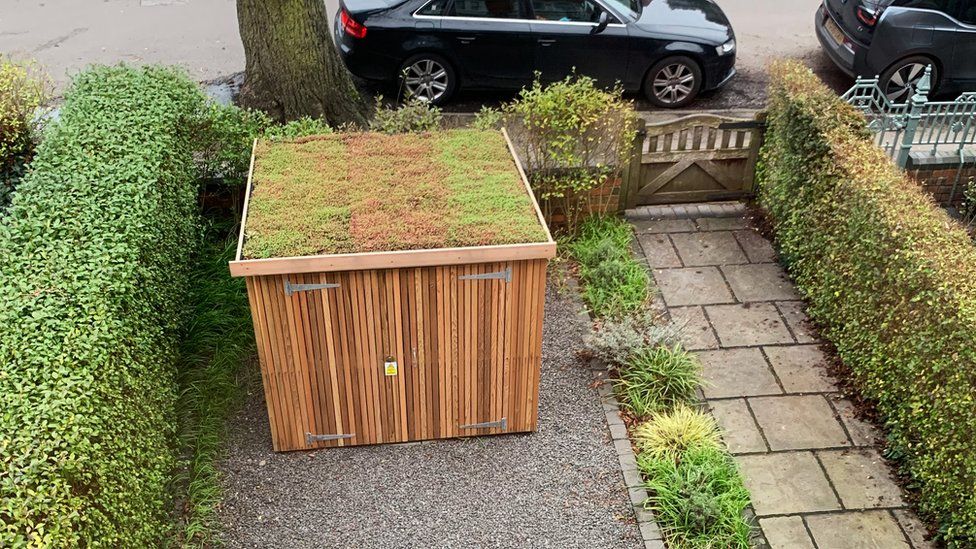 A family who built an eco-friendly bike shed in their front garden without planning permission have said they are "delighted" to be told it can stay.
The Pujara family installed the wooden structure in Leicester's Stoneygate area in September to store bikes used by their children to cycle to school.
Now the authority has approved a retrospective planning application.
Kavi Pujara, 49, said: "We're delighted with the council decision.
"We didn't set out to set a precedent on this issue but I hope other cyclists can soon apply for planning for convenient, secure cycle storage."
Mr Pujara had given the bike shed a "living" green and and pink roof to help it blend in with its leafy surroundings in the designated conservation area.
But a letter from Leicester City Council warned if they did not apply for planning permission they would have 20 days to take it down or face formal enforcement action.
The letter, seen by the BBC, added it was "extremely unlikely" permission would be granted.
It led Mr Pujara to question the authority's commitment to its aim of encouraging more people to embrace greener modes of transport.
Hundreds of people wrote to the authority in support of the family when they applied for retrospective planning permission.
They also received backing from Leicester mayor Sir Peter Soulsby who said local planners had "got the balance wrong".
Now the council has given its approval for the shed to remain in place on condition it is only used to store bikes and hedges around the structure are kept in place.
Mr Soulsby said he was "very pleased" the application had been approved and the council needed to come up with a clear policy to encourage quality bike storage.