Further arrests at Leicester pro-Palestinian drone factory protest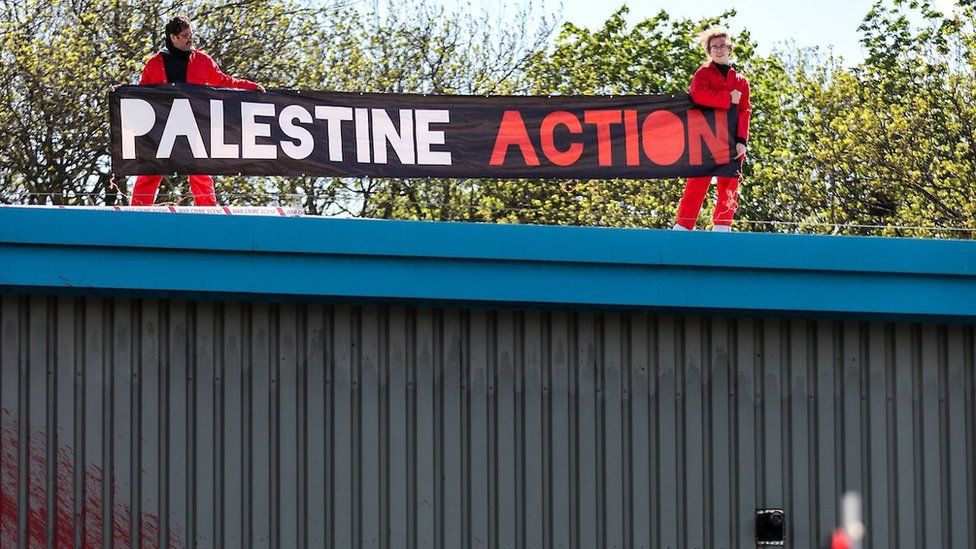 Two activists have been arrested at a drone factory where a pro-Palestinian protest has entered its fourth day.
Members of campaign group Palestine Action have been occupying the roof of the Israeli-owned Elbit Systems subsidiary UAV Tactical Systems in Leicester since Wednesday morning.
A woman, 21, and a man, 18, have been detained and remain in police custody.
Two others, who the group said were giving water to the protesters, have been released.
The woman, from Cheshire, and the man, from Burton, were held on Friday evening on suspicion of conspiracy to commit criminal damage and conspiracy to commit aggravated trespass.
The facility at Meridian Business Park builds unmanned aerial vehicles that the protesters allege have been used in the conflict between Israel and Hamas in Gaza.
On Wednesday morning, four people in red boiler suits climbed on to the roof of the factory and sprayed red paint on one of its walls.
Leicestershire Police said: "Specially trained officers are continuing to maintain an open dialogue with two people who remain on the roof."
A spokesman for the group said: "Two activists were arrested after they stood down from the roof to ration supplies. Two remain to continue the occupation."
Police said a further protest was taking place on the ground in a "peaceful manner".
The Palestine Action spokesman said about 500 people were outside the factory on Friday, some in their cars sounding horns and flashing lights as well as people waving banners.
More than 250 people were killed in the 11-day conflict.
The fighting began on 10 May after weeks of rising tensions.
Palestinians say they are suffering because of Israeli actions and restrictions, including the threatened eviction of some families in East Jerusalem. Israel says it is only acting to protect itself from Palestinian violence.
It culminated in clashes at al-Aqsa, a holy site revered by both Muslims and Jews. After warning Israel to withdraw, Hamas began firing rockets, triggering retaliatory air strikes.
The group spokesman added the ceasefire would not end the factory occupation.
Related Internet Links
The BBC is not responsible for the content of external sites.