Snake owner's warning after 6ft boa constrictor escapes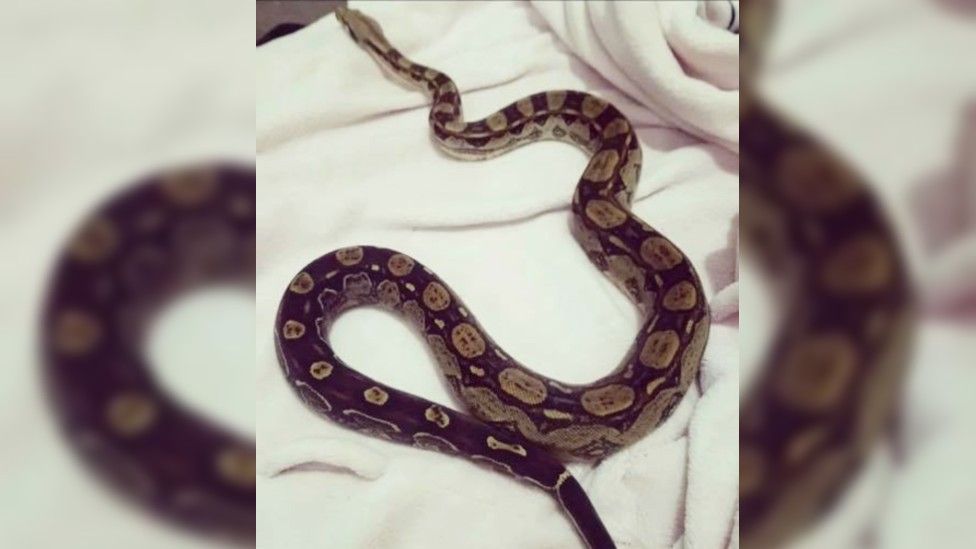 A 6ft (1.8m) long boa constrictor has escaped from a home, prompting his owner to warn people not to leave their animals unattended.
Shannon Surch's pet Bo disappeared from Measham, Leicestershire, on Tuesday after popping a vent in its tank and slithering through an open window.
She said the snake would not be a danger to anyone unless provoked.
The RSPCA said anyone who sees him should keep a safe distance and call them.
Miss Surch, 27, who works in a pet shop, said this was the first time the six-year-old Keltic boa constrictor had escaped.
She said the vivarium tank is kept locked in her bedroom, along with three fish tanks and a hamster cage, so she keeps the window open as it can get warm.
It is believed that is how Bo managed to get away as the bedroom door was shut.
"He's not dangerous. He's never struck at a human or bitten anything that's living," she said.
Boa constrictors are not venomous but have been known to kill animals by squeezing them to death.
Miss Surch said she had warned Leicestershire Police, Twycross Zoo and the RSPCA and there had not been any sightings of him so far.
"He's going to be somewhere that is hidden, he doesn't like being out in the open," she added.
"He is also due to shed his skin this week, so people could see some snake skin which you can't miss."
She posted a warning on Facebook after Bo disappeared.
"I put out the warning because children are inquisitive and so might go up to him not knowing, so I wanted to make sure people don't leave animals or young children unattended in their garden.
"I just want everyone to keep their eye out," she said.
Miss Surch added a bite would "feel like a pin prick", and advised people if he bit them to spray him with water or submerge him in order for him to let go.
An RSPCA spokesperson said it was important people did not try and handle or confine Bo and to contact them.
"Many of the snakes officers are called to collect are thought to be escaped pets," they said.
"Reptiles, particularly snakes, can be extremely good escape artists and will take the opportunity of a gap in an enclosure door, or a loose-fitting lid.
"It is possible to microchip snakes and we would recommend owners ask their exotics vet to do this, so that snakes can be easily reunited if lost and found."
Steven Allain, from the British Herpetological Society, said he did not think Bo would have gone far.
"It's quite warm, but it's not the tropical temperatures this snake needs," he said.
"It won't have experienced the natural world before so it will probably be in sensory overload that we can imagine would be similar to us getting a migraine, and it will just want to hunker down somewhere.
"It won't be a threat. Boa constrictors are quite tame, placid snakes and will probably be more scared of people than people are of them."
Leicestershire Police confirmed they had received a report in relation to the missing snake.
"The caller stated they had contacted the RSPCA. The caller was also advised to make contact with the local zoo," a spokesman said.
Related Internet Links
The BBC is not responsible for the content of external sites.