Covid: Sileby rock drummer Tim Brown becomes Spanish radio DJ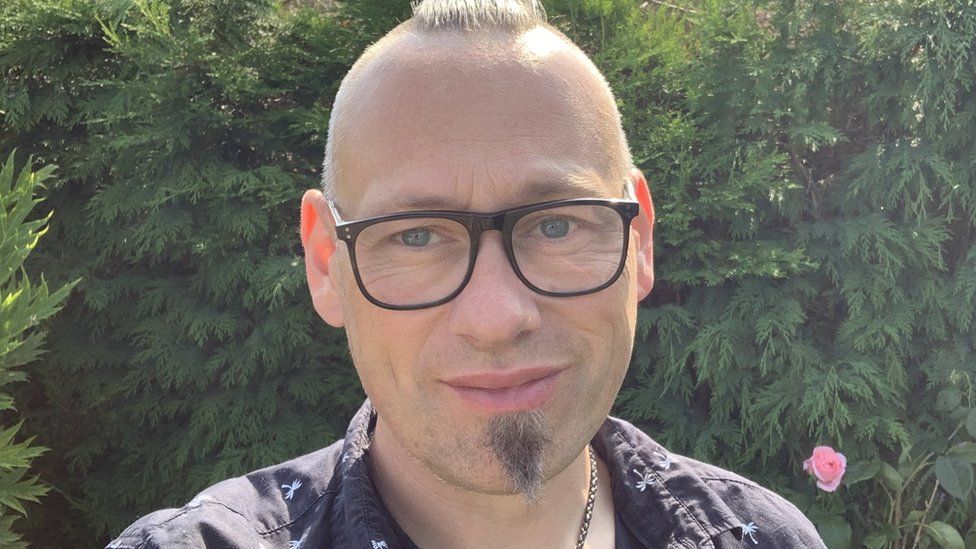 A rock drummer whose touring career was put on hold by the pandemic has reinvented himself as a presenter on a Spanish radio station.
Tim Brown, from Sileby in Leicestershire, was offered a job with Almeria Radio after station bosses took a shine to his voice during an on-air interview about his music.
He now presents a club classics programme and an 80s show.
The 46-year-old said the move was an example of pandemic "craziness".
Mr Brown's 25-year career as a professional drummer has seen him tour the world with former members of AC/DC, Deep Purple and Wishbone Ash.
But he said the disruption to live music caused by the global pandemic had forced him to take other jobs to pay the bills, including working as an Asda delivery driver.
Then earlier this year, he went on Almeria Radio - an English-speaking station broadcasting in southern Spain - to talk about a new single he had recorded.
"Afterwards the station said to me 'hey would you like to come and be a DJ - you sound good on radio' and I was like 'OK'," he said.
"I've always had this philosophy of never saying no to anything. It's just an example of the crazy world of the pandemic that's brought me here."
From his home studio in his back garden, he presents a live show each Wednesday playing "club bangers and classics" and pre-records an 80s music show for broadcast on Saturdays.
"It's just the wonders of the internet that allow me to do this - but it's a great commute to work just walking down the garden. No traffic problems whatsoever, just dodging the dog poo."
But Mr Brown, who has played drums since he was seven, admits he cannot wait to get back on the road playing live music in the autumn.
"I've been practising my backside off," he said.
"I always said I wanted to come out of this pandemic thing better than when I went into it, so I can be fast out of the starting blocks and really good.
"I just can't wait for it to start again. I can't wait to get back on a plane."
Related Internet Links
The BBC is not responsible for the content of external sites.