Leicester mental health unit's care errors led to woman's death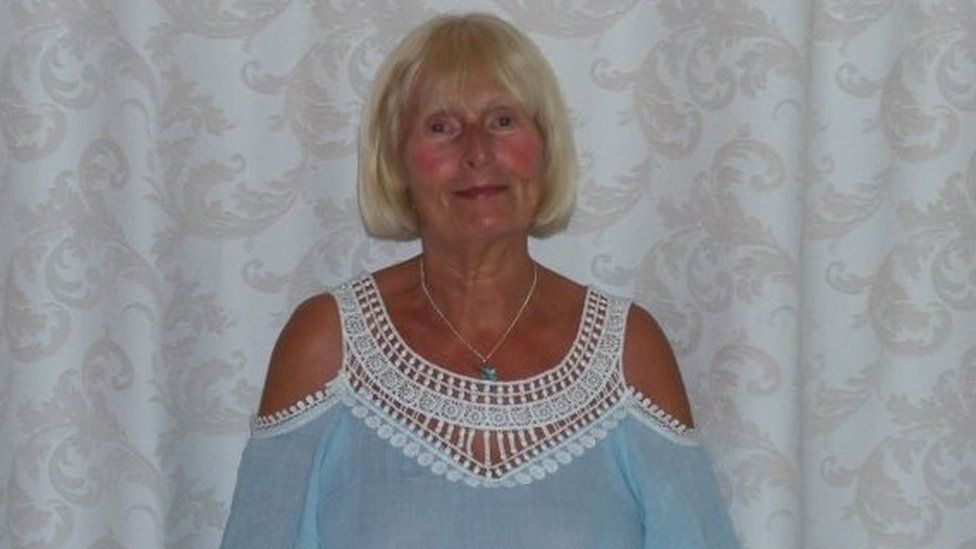 A woman died after staff at a mental health unit failed to communicate about her care, an inquest jury has found.
Cherry Dunn was diagnosed with a water infection by her GP in September 2018.
The 68-year-old, from Hinckley, was later admitted to the Bennion Centre in Leicester, but died from a pulmonary embolism caused by deep vein thrombosis (DVT).
Leicestershire Partnership NHS Trust apologised "for the distress caused".
Leicester Coroner's Court heard Ms Dunn, of Hinckley experienced delirium as a result of her water infection, and after a fall at home she was taken to A&E at Leicester Royal Infirmary (LRI) and placed on the assessment unit.
She was seen by the frail older peoples' advice and liaison (Fopal) service and moved to another ward, but her husband Martin noticed her legs were swelling up and that she had bruises on her legs and arms.
After showing signs of confusion Ms Dunn was admitted to the Bennion Centre, a mental health unit based at Leicester's Glenfield Hospital, on 24 October, but after another fall the next day she was briefly taken back to the LRI for treatment.
She died back at the Bennion Centre on 5 November.
Mr Dunn said his wife had become less mobile and her mental health had deteriorated, with her being more lucid on some days than others.
After a six-day inquest, which concluded on 19 August, a jury found incomplete, inaccurate and insufficient records and verbal communication between staff at the centre contributed to Ms Dunn's death.
They also found Mrs Dunn's lack of engagement due to her mental health prevented proper investigations being made.
"On the balance of probabilities it is more likely than not that the incomplete, inaccurate and insufficient records [and] verbal information communicated between healthcare professionals on Kirby Ward, as well as Mrs Dunn's lack of engagement due to her mental health, contributed to her death from a pulmonary embolism," the record of inquest said.
"This prevented proper investigation."
Mr Dunn said the death of his wife of 42 years had affected him deeply.
"I continue to repeatedly see the scene with Cherry lying on the floor in her room, and I cannot seem to move on from it," he said.
"We had planned to spend more time together in Fuerteventura once I retired. I retired in July 2019 but sadly now, that future has gone."
In a statement Leicestershire Partnership NHS Trust said it accepted the findings of the inquest, adding it has made efforts to improve its services.
"Since Mrs Dunn's death we have reflected on how her care could have been improved," the statement said.
"We have also carried out reviews and improved our internal processes, venous thromboembolism risk assessments and our escalation procedures to reduce the chances of a similar occurrence in the future."