Hinckley football team make history in 18-0 FA Vase win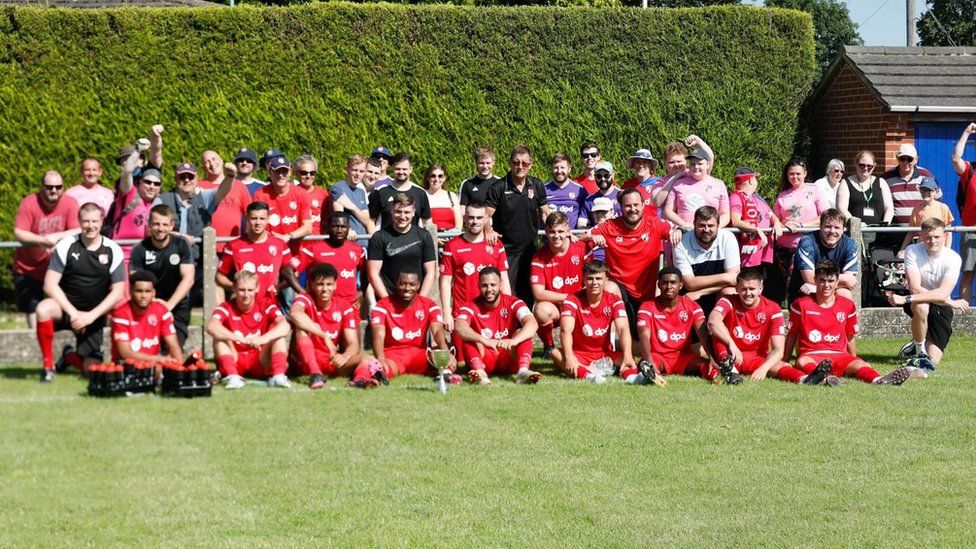 A non-league football team set a club record as they stormed to an 18-0 win in an FA Vase match.
Hinckley AFC would have been forgiven for taking it easy after racing to a 7-0 half-time lead against Shropshire-based St Martins on Saturday.
But the side kept their shooting boots firmly on as nine different players scored - two bagging four apiece and a debutant scoring a hat-trick.
Manager Courtney Belford said the game was "a total freak".
FULL TIME | It's a new club record win for Hinckley who are through to the next round

Joel Heely and Kai Gibbs got four apiece, and debutant Charlie Evans a hat-trick pic.twitter.com/h5oSICJyzi

— Hinckley AFC (@hinckley_afc) September 11, 2021
The manager of the United Counties League team added: "I don't think I'll ever be involved in a game like that again, and I don't think I ever have been before.
"I think St Martins are going through a little bit of a tough time as a club, and you don't want to embarrass anybody, but you've got to be as ruthless as you possibly can in football.
"You have to enjoy it while you can."
The number of goals meant the Leicestershire side managed to, on average, score every five minutes in the first round qualifier.
St Martins announced the appointment of a new manager following the game.
Mr Belford said at half-time, he told the players they had the chance to beat the previous club record of 13-0.
He said: "The message to them was, 'Can we make a bit of history here and be a bit more ruthless?'"
Mr Belford said as the team went past 13-0, he told the players to enjoy the rest of the game, but then someone mentioned the FA Vase record was 17-0.
He added: "So it gave us something to work towards and kept us motivated.
"We have made a bit of club history and beat the Vase record as well. It is two bits of history in a game of football so it is always going to be remembered."
Related Internet Links
The BBC is not responsible for the content of external sites.