Actor Stephen Graham hands out free school footballs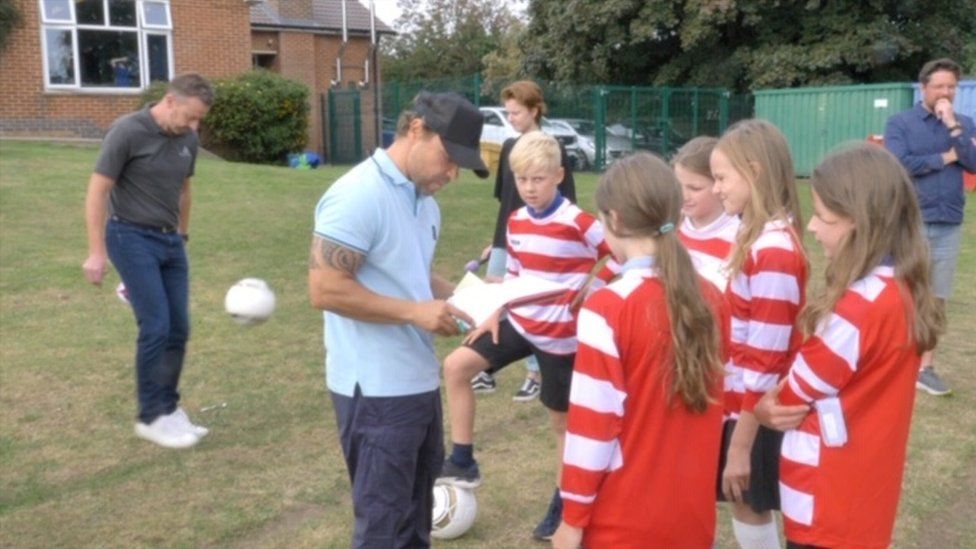 Line of Duty star Stephen Graham dropped by a school to deliver some free footballs as part of the BBC's Kit Out the Nation campaign.
Mr Graham and his wife Hannah Walters paid a surprise visit to Heather Primary School in Leicestershire.
He said: "Every child deserves the opportunity and the right to participate in some kind of sport."
The couple, who live near the school in Coalville, watched the new footballs get tested in a penalty shootout.
Sports shirts were also donated to the school by a Hinckley-based business.
"I think it's fantastic, it really is," said Mr Graham.
"Children need sports kits and I just think it's a wonderful thing to do."
The couple - who are both actors - also fielded questions from the pupils about what inspired their careers.
Pupils at the school said they were left "speechless" by the visit, which was organised by BBC Radio Leicester.
"The children are very excited," said Maxine Michalowski, the headteacher.
"It's great to hear them being so eloquent and they're clearly very excited with their new kit and footballs.
"It's a fantastic day for the school."
If you are sporting club or associated foundation with schemes that can help with collecting and distributing sports kit, or a charity or business who would like to share details with the BBC's Make a Difference Kit Out the Nation campaign, this is how you can get in touch.