Boxer Mike Tyson visits Lincolnshire pigeon breeder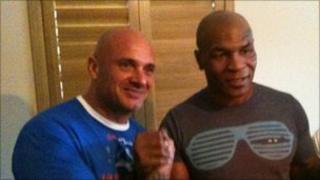 Former world heavyweight boxing champion Mike Tyson has made a surprise visit to a Lincolnshire pigeon breeder.
The 44-year-old boxer visited Darren Peters at his breeding stud in East Heckington on Tuesday afternoon.
Mr Peters said he was stunned to get a call that Tyson, who it is thought has had an interest in pigeons since childhood, wanted to visit him.
Tyson is in the UK doing a series of talks on his life and career and making a pigeon racing show for US television.
Mr Peters, who has about 600 pigeons at his farm, said he received a call last week from Tyson's tour promoter asking if he could pay a visit.
"With him (Tyson) being a legend and following his career it was hard to believe," Mr Peters said.
"It was a big buzz and to be honest he thanked me. He didn't want to go, he loved every minute of it. He said he'd like to come back again.
"He talked and asked lots of questions... he was really keen. It was a day to remember."
Bird fancier
He said Tyson spent a couple of hours at the farm.
Stuart Howe, from Boxing Promotions Ltd, said Tyson had asked to see some racing pigeons on his day off and he suggested visiting Mr Peters because he was a friend of a friend.
Mr Howe said Tyson "was very happy with the visit" and had said pigeons were his "passion".
While in the county, Tyson also met with Lincolnshire boxer Callum Johnson.
On Wednesday he made an appearance on the pitch as Peterborough United hosted West Ham United in a friendly.
Tyson became the youngest-ever world heavyweight champion aged 20.
He bit off part of opponent Evander Holyfield's ear during a WBA bout in Las Vegas in 1997 and was disqualified from the fight.