New lease of life for Lincoln's Theatre Royal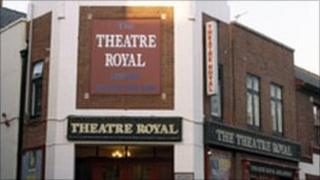 The new owner of Lincoln Theatre Royal is hoping to encourage more people through the doors.
Management company ID Entertainment has been running the theatre since February and bought the freehold to the building from the city council on Thursday.
Ian Dickens from the firm said the sale would allow him to bring in more investment and complete renovation work to the Grade II listed building.
The theatre lost more than £170,000 in city council grants last year.
'Strength to strength'
Mr Dickens said: "The final bit of the renovation will be the painting of the auditorium, which is a massive job about £400,000 to 500,000 worth of refurbish.
"Getting the freehold gives me an opportunity as a businessman to get to go to the banks and say look we've got the bricks and mortar, let's invest in this together, which is what we'll do."
Marc Jones, the deputy leader of the City of Lincoln Council, said: "The only difference is the ownership of the actual building not the theatre itself.
"Sometimes the time is right to sell those buildings to enable other people to progress businesses. It will definitely go from strength to strength."
The theatre was built in 1897 and has been owned by the City of Lincoln Council since 1976.