Funeral service for Lincolnshire recycling centre baby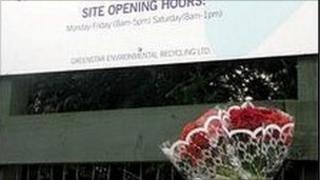 The funeral of a baby whose body was found at a Lincolnshire recycling plant has taken place.
The boy, named Jacob by the authorities, was found at the Greenstar Recycling Plant in Addlethorpe, near Skegness, on 15 October last year.
A graveside service was held at St Nicholas Church in Addlethorpe.
Police involved in the case said they hoped the mother, who had never been traced, will one day be able to come forward and pay her respects.
The child was found in a bin bag with items of clothing. Medical tests showed it had not been stillborn.
The funeral was paid for with donations from a local businessman.