Lincoln Castle dig uncovers Saxon homes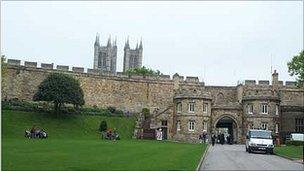 Evidence of ruthless land clearance by Norman knights has been found in Lincoln.
Archaeologists working in the castle grounds have discovered remains of Anglo-Saxon houses.
When William the Conqueror decided to build a castle inside the old Roman fort, he swept away 166 homes - more than 10% of the existing town.
Now the first of a series of digs has uncovered a fireplace, pottery and the marks of structural timbers.
Lincoln was one of the first castles built by William, following his victory at Hastings in 1066, to help secure the country.
The Domesday Book, a survey of his new kingdom, records how many houses were knocked down to make room but this is the first time their physical remains have been studied.
Cecily Spall, from Field Archaeology Specialists (FAS), said the discoveries, made in the north lawn area, give a glimpse of a revolution in the country.
"The Saxons would not have been able to do anything about this. The Norman Conquest remodelled Anglo Saxon England.
"New landlords were appointed and they laid waste to houses and they reassigned the ownership of property and land rights."
The dig is happening ahead of the construction of a £2.1m Heritage Skills Centre, the first new building inside the castle for 150 years.
Related Internet Links
The BBC is not responsible for the content of external sites.