Lincolnshire 'sausage 'tax' is introduced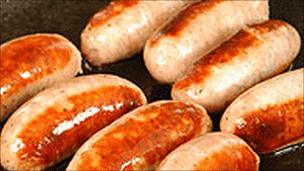 A voluntary "sausage tax" has been introduced to help fund a campaign to secure protected status for Lincolnshire's famous bangers.
Participating butchers in the county are asking customers to pay an extra five pence when they buy the sausages.
Lincolnshire Sausage Association, which wants to secure Protected Geographical Indication (PGI), is behind the scheme.
If approved, only bangers made in the county using the correct recipe could be called Lincolnshire sausages.
According to the association, a Lincolnshire sausage should contain a minimum 70% of coarse ground or minced pork, packed in natural casings and flavoured with sage.
Chairman Janet Godfrey claims the description is currently being misapplied.
She said: "Most of the Lincolnshire sausages that are supplied in our major retailers are not made in Lincolnshire.
"Some of them are made in Leicestershire, some of them are made in Yorkshire, various places.
"In fact one major retailer puts more thyme and parsley in their Lincolnshire sausages than sage - and Lincolnshire sausage should only have sage."
Money raised from the "tax" is being used to build a fighting fund to pay for costs such as legal advice.
The campaigners have submitted their bid for PGI status to the Department for Environment, Food and Rural Affairs (Defra) which must decide whether to forward the application to the European Commission.
More than 40 products in the UK already have protected status, including Cornish clotted cream and Melton Mowbray pork pies.
Related Internet Links
The BBC is not responsible for the content of external sites.