Girl, 13, and six others deny murdering man in Lincoln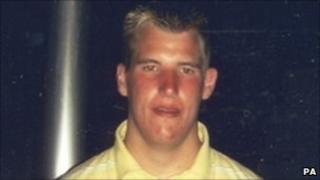 Seven people, including a 13-year-old girl, have denied murdering a man found dead near a supermarket in Lincoln.
The body of Shaun Rossington, 21, was discovered on grassland close to Waitrose on Searby Road on 3 June. He had died of head injuries.
The six others accused of murder are aged between 16 and 26. One of those, a 17-year-old boy, admitted manslaughter on the basis of lack of intent.
They will stand trial at Nottingham Crown Court on 4 October.
The accused are: 26-year-old Nicholas Shelbourn, of Laughton Way, Lincoln; 20-year-old Mark Jackson, of Yarborough Road, Lincoln; a 17-year-old girl, a 17-year-old boy, two 16-year-old boys and a 13-year-old girl.
The 17-year-old boy, who has admitted the manslaughter charge, also pleaded guilty to conspiracy to pervert the course of justice, along with one of the 16-year-old boys.
The other five defendants all denied this second charge.
All were remanded into custody or secure accommodation.