Lincoln cathedral hopes gift aid will boost visitors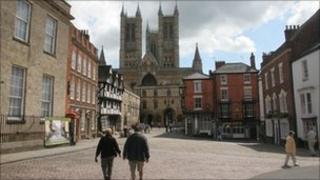 Officials at Lincoln Cathedral hope changes to admission charges will mean more local people will get involved in activities at the church.
An extra £100,000 a year is expected to be raised through gift aid.
The changes mean a single ticket costing £6 will allow the holder entry for a whole year.
The cathedral has been granted charity status which means it can now claim gift aid, which allows it to collect more money in tax relief.
An entrance ticket will mean visitors become charity members, and have free entry for a year.
The cathedral's chief executive Roy Bentham said: "We have to bring £5m of income into the cathedral each year to break even and I would say this year the entrance charges will bring in about £400,000.
"If a local person comes in once then they then get access for the entire year, so we are hoping it will encourage local people to become much more involved with the cathedral."