Man jailed over triple death crash in Lincolnshire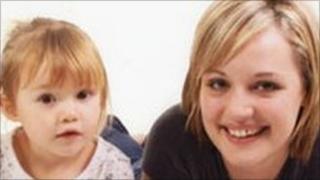 A man has been jailed for four-and-a-half years for causing a crash that killed three people including a three-year-old girl in Lincolnshire.
Ella Harman and her mother Jodi Thornton, 24, of Coningsby, died inside a Mini in a crash on the B1191 near Woodhall Spa last year.
John Knight, 61, from Sleaford, who was driving a van, also died.
The Mini driver, Gary Cottingham, 23, of Coningsby, admitted three counts of causing death by dangerous driving.
He was disqualified from driving for five years by a judge at Lincoln Crown Court.
The accident happened between Martin and Kirkstead Bridge on 3 November 2009.
Recorder Paul Mann QC ordered Cottingham, of Carrington Close, to undertake an extended driving re-test after his disqualification period.
'Scene of carnage'
The court was told Cottingham, who was driving at 85mph (137 km/h), followed a van which had just passed him and was also overtaking on the approach to the bend.
He narrowly missed the first of a line of oncoming traffic but then hit the following van and a car heading towards him.
The impact of the collision split his car in two. The vehicle flew over an oncoming vehicle with the front half ending up in a ditch and the back half being thrown 100 yds (91m) away.
Mr Mann told him: "As a result of your dangerous driving three people lost their lives and two others suffered very serious injuries which have had long-term consequences for them.
"The lives of the family and friends of those who died have been wrecked. It was a scene of carnage."
Ms Thornton had been an acquaintance of Cottingham, police said.
Speaking outside court, Sgt Chris Dennett of Lincolnshire Police said, "Every collision on our roads, which results in a fatality, is a tragedy for the families involved.
"However, few cases have affected so many people, as the case heard today.
"Not only the families who have lost loved ones, but also the families of the victims who have suffered life-changing injuries. No punishment can ever reflect all their grief and loss."