Walkers urged not to disturb Donna Nook seals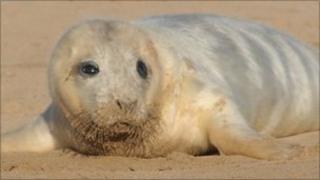 Visitors to a Lincolnshire seal colony are being urged to avoid disturbing the animals after an increase in the number of pup deaths.
The outer colony near Donna Nook is open at the weekends, unlike the main colony about a mile away.
Up to 200 people walk on the beach on Saturdays and Sundays, according to the Lincolnshire Wildlife Trust.
Although it is a public right of way, the trust is appealing to the "better judgement" of visitors.
It said death rates of grey seal pups at the outer colony were now six times higher than at the fenced-off main colony, which can be observed from the reserve's viewing area.
The beach is popular with wildlife photographers as well as members of the public, some of whom walk among the seals.
Trust spokeswoman Rachel Shaw said: "That can cause the mothers to panic and move away from the pups, and when that happens they're not very good at finding each other again, so the pup has no food and starves.
"It's not on, so we're appealing to people's better judgment to stay behind the fence and asking that nobody goes out on to the beach."
Up to 50,000 people visit Donna Nook each year, and most use the main viewing area, she added.