Seven lured 'vulnerable' man to attack in Lincoln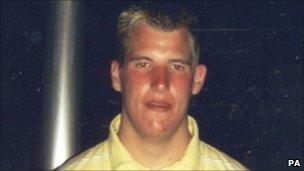 Seven people, including a 13-year-old girl, lured a "vulnerable" man to grassland, where he was attacked and left unconscious, a court has heard.
The body of Shaun Rossington, 21, was discovered on land close to Waitrose on Searby Road, Lincoln, on 3 June.
Nottingham Crown Court heard he was attacked, left face down on the ground and died from a lack of oxygen.
Two men aged 20 and 27, one girl, 17, two boys, 17, another boy, 16, and a girl, now 14, deny murder.
Defendants Nicholas Shelbourne, 27, of Laughton Way, Lincoln, Mark Jackson, 20, of Yarborough Road, Lincoln, the 17-year-old girl, the 16-year-old boy and the 14-year-old girl have also denied a charge of conspiracy to pervert the course of justice.
Richard Latham, prosecuting, told the court Mr Rossington was diagnosed with Asperger's syndrome in 2009 and was described as "naive".
He said: "The prosecution case is that he, Shaun, was lured to the grassed area where he was found, arriving in all probability just shortly before 2am and there in that area he was attacked by these defendants who were lying in wait for him.
"This was not an accidental meeting.
"All the defendants, we allege, knew of the plan, that is to lure him to the place where he was to die and we allege that all the defendants were aware that the plan was that having got him there he should be beaten up."
Related Internet Links
The BBC is not responsible for the content of external sites.