Tackling rhododendron problem at Lincoln nature reserve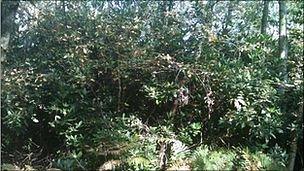 Thousands of pounds are being spent to prevent the spread of a plant at a nature reserve in Lincoln.
Rhododendron bushes, some of them 15ft (4.57m) high, are said to be suppressing the growth and survival of other plants at Swanholme Lakes.
Now the shrubs are to be ripped out using specialist machinery and burnt, at the start of a bid to regenerate its heathland.
Dr Kate Fagan, of Natural England, said some bushes were planted centuries ago.
She said: "Private landowners often planted it and it spreads very quickly. And once it's established in an area it really does spread out and covers an entire area with no chance of natural vegetation - it's an excellent competitor."
Ruth Simons, of the City of Lincoln Council, said: "We know the felling and coppicing works will be quite dramatic visually, but we want to reassure people that it is necessary to protect the heathland species that make Swanholme so special and nationally significant."
The restoration work, funded mainly by Natural England, begins next month and the scheme is expected to take around 10 years.
Related Internet Links
The BBC is not responsible for the content of external sites.