Call for Thatcher birthplace museum in Grantham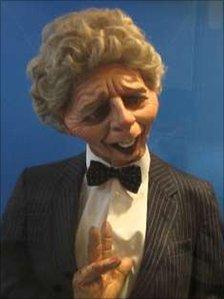 As Baroness Thatcher marks her 85th birthday, a Conservative MP has called for a museum dedicated to her to be set up in her birthplace in Lincolnshire.
Britain's first female prime minister was born Margaret Hilda Roberts in Grantham on 13 October 1925.
MP for Grantham and Stamford Nick Boles said it would be apt to celebrate her achievements in her home town.
He said it would be fitting for her birthplace to be the museum site. The property is currently a health centre.
Mr Boles said people in Grantham had very mixed feelings about the former prime minister.
"I think some people are very proud of it: they see in her an embodiment of some of the values of this part of the world, of no-nonsense looking after your family, looking after your own, not spending money you don't have, standing up for yourself, not being taken apart by bullies.
"And other people, I think, look at the fact that lots of businesses in Grantham closed down during the 80s, lots of great engineering businesses and manufacturing businesses, and blame her for that.
"I hope that in time that they'll all see that she was a remarkable figure with an extraordinary set of achievements."
A spokesman for Grantham Museum said it already had a Baroness Thatcher display which features a blue suit she wore and one of the original Spitting Image puppets depicting her.
A centre of natural medicine currently occupies the building where she was born and attracts tourists from all over the world.
The property, in North Parade, was a shop owned by her father Alfred Roberts at the time of her birth.
Related Internet Links
The BBC is not responsible for the content of external sites.