A52 near Grantham reopens after car transporter crash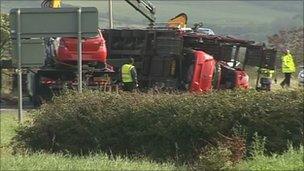 A major road on the border of Lincolnshire and Leicestershire, which closed after a car transporter shed its load, has reopened.
The incident happened on the A52 at Sedgebrook, near Grantham, close to the junction with the A1, just before 0900 BST.
Vehicles came off the lorry but no-one was reported to have been injured.
A Highways Agency spokesman said traffic had started moving in both directions at about 1615 BST.
Five cars which came off the transporter were driven away and the lorry itself was towed off.
The Highways Agency said a lamppost and the carriageway had also been slightly damaged. A specialist engineer attended the scene.
Related Internet Links
The BBC is not responsible for the content of external sites.