Skegness farm museum remains open despite fire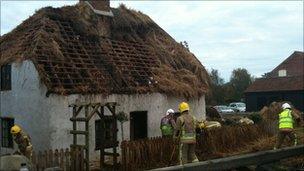 A Lincolnshire museum is open as usual despite a fire ripping through the thatch roof of one of its buildings.
The thatched roof of a 250-year-old cottage at Church Farm Museum in Skegness was badly damaged in the fire on Friday.
But the rest of the farm museum remains open to visitors as work to repair the damaged roof of the cottage continues.
The main attraction on show is the 1760s farmhouse furnished in an Edwardian style.
"Quite a lot of work remains and it is difficult to get the specialist workers to get the work done," museum spokeswoman Sarah Broome said.
She said the cottage was cordoned off but said "everything else" was open.
It is not yet known when the damaged cottage will be repaired and ready to reopen.
Related Internet Links
The BBC is not responsible for the content of external sites.