Lincolnshire council considers parking fine increase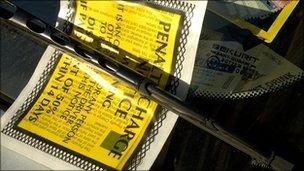 Motorists caught parking illegally in Lincolnshire could face paying bigger fines under proposals from the county council.
The authority is developing plans to take control of parking enforcement from Lincolnshire Police.
It plans to charge offenders £80 for a Band A contravention, making it the only council outside London to charge in excess of government guidelines.
The proposal would need to be approved by the Department for Transport (DfT).
'Exceptional circumstances'
Currently, parking penalty charge levels range from £40 to £70 outside the capital.
The proposal to increase fines would help mitigate the cost of taking control of parking enforcement, a county council spokesman said.
It is estimated it would cost the authority about £1.5m over a five-year period to administer the scheme.
A DfT spokesperson said there would need to be "exceptional circumstances to charge more than the government guideline".
"If they're [Lincolnshire County Council] going to apply to us they would have to make their case well in order for us to look at an exception", the spokesperson added.
The council said, if approved, it hoped to take over parking enforcement from September 2011.
Related Internet Links
The BBC is not responsible for the content of external sites.