Paintings by gangster Reggie Kray go on sale in Lincoln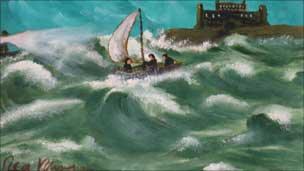 Seven oil paintings created by notorious gangster Reggie Kray while in prison are being auctioned in Lincoln.
The pictures were painted by Kray during art classes attended by him and his brother Ronnie at Parkhurst Prison on the Isle of Wight in the 1970s.
A portrait of the Krays by serial poisoner Graham Young will also go under the hammer.
The Krays ran a notorious gang in London's East End known as The Firm during the 1950s and 1960s.
They were jailed in 1969 for a recommended 30 years - Ronnie for shooting George Cornell in the Blind Beggar pub in Whitechapel and Reggie for stabbing Jack "The Hat" McVitie in a North London flat.
Auctioneer John Leatt from Thomas Mawer and Son said: "Whilst not of great artistic merit, these will be popular with collectors of Kray and gangster memorabilia.
"We anticipate a great deal of interest in these paintings on sale day and estimate they will fetch between £200 and £300 each."
Young, known as the 'Teacup Poisoner', was fascinated by poisons from a young age. At just 14 in 1962, he laced his step-mother Mollie's food with two poisons - antimony and digitalis - causing her death.
After spending nine years in Broadmoor, he was released and went to work in a photographic studio where he had access to dangerous chemicals.
Soon after, two colleagues fell ill and died after he spiked their tea with poison. He went on to make 70 others ill before being caught in 1972 and sent to Parkhurst.
The sale is taking place on 5 and 6 November.
Related Internet Links
The BBC is not responsible for the content of external sites.